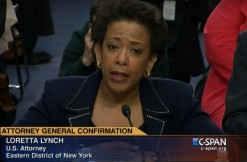 With a vacancy on the Supreme Court in the middle of an election year, observers are fighting to predict who's going to fill it, or whether President Barack Obama can do it before leaving office. For our part, we floated names like Sri Srinivasan and Jane Kelly. But maybe the most credible voice on this issue would be an attorney who co-founded the SCOTUSblog, Tom Goldstein.
In a blog post published Sunday, Goldstein suggested U.S. Attorney General Loretta Lynch is currently Obama's most likely nominee, but she'd get shot down in a vote. Maybe that doesn't sound interesting, but you should read on because his analysis covers the political elements at play here.
With the Republicans controlling the Senate majority, Goldstein suspects that they'll slow down or ignore any move to get an Obama nominee through the confirmation hearing.
"They have the power to refuse to hold confirmation hearings before the Judiciary Committee and/or a floor vote on the nominee," Goldstein wrote, thinking that Republican presidential candidate and Senator Ted Cruz will lead this opposition. (Our sister-site Mediaite has already reported that Cruz promised to filibuster any of Obama's nominations.) Goldstein believes this situation can only change if the "political dynamic in the county" leverages them toward letting the nomination process go forward before the November election.
"The stakes could not be higher," he wrote. "The appointment could flip the Supreme Court's ideological balance for decades."
As for Lynch, she's not a lightweight. Though she assumed the office of Attorney General only last year, Goldstein thinks she's a good fit since he's been vetted so recently. And: "Her history as a career prosecutor makes it very difficult to pain her as excessively liberal," he wrote. In other words, the Republicans can't paint her as a namby pamby, soft-on-crime left-winger.
Plus there's the issues of race and gender. With Lynch being both black and a woman, this would keep Republicans from treating her "unfairly in the confirmation process," Goldstein wrote, since "either eventuality would motivate both black and women voters."
But Lynch might not fill the vacancy anyway, with Goldstein expecting a confirmation vote to be along party lines. Remember who has the majority in the Senate.
Goldstein's Sunday blog post is actually a revising of an earlier prediction, where he suggested federal Judge Paul Watford. Competency alone isn't going to cinch the nomination. Like Goldstein mentioned, there are political games involved as well, and with years between Court vacancies, neither party wants to lose the opportunity to control the shape of the court.
This vacancy comes after the Saturday passing of Judge Antonin Scalia from natural causes. Depending on who you ask, he was either a charming curmudgeon, a stalwart defender of judicial conservativism, or a fascist. (Maybe a mix of all three.) Somehow travel buddies with liberal Judge Ruth Bader Ginsberg, he was loved and hated by a lot of people. Scalia was appointed to the Court in 1986 by Republican President Ronald Reagan.
[image of Lynch via C-Span screengrab]
–
>> Follow Alberto Luperon on Twitter (@Alberto Luperon)
Have a tip we should know? [email protected]