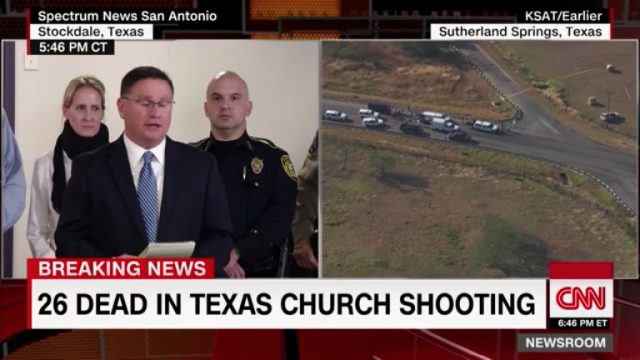 Devin Kelley, the man alleged to have killed at least 26 people in a church last night, was apparently denied a firearm license by the State of Texas.
It's unclear how Kelley was able to procure the Ruger AR-556 (a variant of the popular AR-15) allegedly used to attack the parishioners at First Baptist Church in Sutherland Springs, however, local authorities appeared perplexed about exactly that.
In an interview with CNN's Chris Cuomo, Texas Governor Greg Abbott said:
So how was it that he was able to get a gun? By all the facts that we seem to know, he was not supposed to have access to a gun. So how did this happen?
In his confusion, Abbott cited a statement by Texas' Director of Public Safety, Steven McCraw which noted that Kelley had been declined a firearm license sometime in the recent past.
A license to purchase a firearm is not a legal requirement in Texas. Anyone over the age of 18 is lawfully allowed to purchase long guns–such as rifles or shotguns–and anyone over the age of 21 is allowed to purchase handguns absent a felony conviction record. All gun purchases in the State of Texas must be done with valid identification and any other restrictions there simply mirror federal laws.
The license Kelley may have been denied was likely what is known as a License To Carry ("LTC") which was formerly known as a Concealed Handgun License ("CHL") in Texas. Such licenses simply regulate whether individuals are legally allowed to carry handguns in public. The Texas LTC is a non-discretionary document available to all residents on a shall-issue basis. In other words, as long as you meet certain criteria and don't run afoul of statutory restrictions, the State of Texas must give you an LTC if you apply.
The most common factors which would make a person ineligible are felony convictions, class A or class B misdemeanor convictions (which usually result in temporary ineligibility but can be permanent if related to domestic violence), pending criminal charges, chemical or alcohol dependency, certain mental health diagnoses, protective or restraining orders issued against an application, and defaults on certain government-related debts like taxes, child support or student loans.
Here, it's likely Kelley was denied his application for a CHL or LTC–it's unclear as of now when Kelley applied and Texas law only recently changed the CHL over to the LTC–due to his "bad conduct" discharge from the Air Force for allegedly assaulting his wife and child in 2014.
If the gun allegedly used in the church shooting was purchased prior that 2014 court-martial, however, then Kelley would have had no obstacles to making a lawful purchase. Oppositely, if the Ruger AR-556 Kelley apparently used in the shooting was purchased after his 2014 court-martial, then the demoted Air Force veteran should have never been allowed to purchase the gun in question.
Mason Crews is an employee at 1800gunsandammo.com, a firearms retailer based out of Texas. Crews, who has years of familiarity with state gun laws, said, in an interview with LawNewz, "He should've been denied for a sale if he was convicted of a domestic assault like they say. Two questions on the background should've stopped him. Dishonorable discharge from military and domestic violence." Crews continued:
So, there may be some lack of reference from the military court to civilian court, but they should not have sold that gun to him if he was convicted of domestic abuse–or if he was, in fact, dishonorably discharged from the military. The NICS/FBI should've denied. That's all depending on if he actually purchased from a licensed [Federal Firearms License] dealer.
[image via screengrab]
Follow Colin Kalmbacher on Twitter: @colinkalmbacher
Editor's note: this post has been updated to clarify the exact discharge Kelley received from the Air Force.
Have a tip we should know? [email protected]