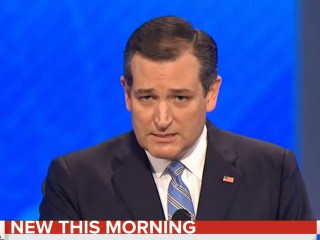 During Saturday night's ABC debate, Ted Cruz told the audience that waterboarding is not considered torture under any legal definition. His claim appears to be derived from a controversial 2002 Bush Administration Memo, which has been widely disputed and discounted. However, according to most other legal interpretations, waterboarding does meet the definition of torture.
Here is what Cruz said when asked if waterboarding is torture:
"Well, under the definition of torture, no, it's not. Under the law, torture is excruciating pain that is equivalent to losing organs and systems, so under the definition of torture, it is not. It is enhanced interrogation, it is vigorous interrogation, but it does not meet the generally recognized definition of torture."
In fairness, Cruz,  isn't the only GOP candidate who believes that waterboarding isn't torture. Regardless, Cruz seemed to make a legal claim so let's first look at Cruz's definition of torture. It seems to differ from United Nations Convention Against Torture, which was ratified by the U.S. in 1990. Here is this definition:
"torture" means any act by which severe pain or suffering, whether physical or mental, is intentionally inflicted on a person for such purposes as obtaining from him or a third person information or a confession… when such pain or suffering is inflicted by or at the instigation of or with the consent or acquiescence of a public office or other person acting in an official capacity.
Many including the International Committee of the Red Cross, contend that torture falls into the above definition without doubt.
In addition, U.S. federal law (18 USC Section 2340) defines torture as something that "specifically intended to inflict severe physical or mental pain or suffering" — and of course, the U.S. Constitution prohibits "cruel and unusual punishment."
"There is no way any competent and knowledgeable attorney can say that waterboarding is legal under the Geneva Conventions, the Uniform Code of Military Justice, or the Convention Against Torture," retired Maj. Gen. Thomas Romig, a former Army judge told the Wall Street Journal in 2014 interview.
During the debate, Cruz was likely referring to the controversial 2002 document known as the "Bybee Memo." Jay S Bybee was head of the Office of Legal Counsel under President George W. Bush. At the time, the memo advised the CIA and DOD that techniques such as "waterboarding" might be legally allowed under an interpretation of the president's authority during war time. The memo said the only pain equal to that produced by organ failure or death qualified as torture.  But it is worth noting that this definition has since been widely criticized and subsequently disavowed.
In fact, Jack Goldsmith, who served as head of the Justice Department's Office of Legal Counsel in 2003 to 2004 (under Bush), put a temporary halt to the use of waterboarding as a technique after he raised questions about this type of interrogation and the law.
In 2009, President Obama issued a ban on the use of waterboarding on detainees. In fact, a report released by the Senate Select Committee on Intelligence found that there was no credible proof that information obtained through waterboarding prevented attacks or saved lives.
Professor David Luban, from Georgetown Law School, testified in a 2009 congressional hearing and stated that the 2002 Bush memos, are: "deeply eccentric read of the law. The memos cherry-pick sources of law that back their conclusion, and leave out sources of law that do not. They read as if they were reverse engineered to reach a pre-determined outcome: approval of waterboarding and other CIA techniques."
So for Ted Cruz to assert that waterboarding  does "not meet the generally recognized definition of torture" seems to counter most commonplace legal interpretations of what constitutes torture that have emerged since this 2002 Bush Memo.
[screengrab VIA ABC News]
This is an opinion piece. The views expressed in this article are those of just the author.
Rachel Stockman - President / On Air Host