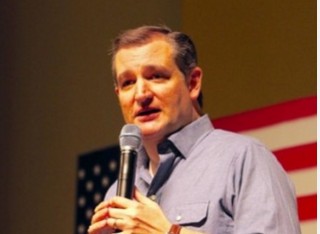 I know the commentators at the bottom of this article will blast me for this (go ahead), but I want to start off by saying we do not know for 100 percent certainty who Justice Scalia would have voted for if he was still alive during the 2016 presidential election. Scalia, of course, never mentioned his presidential preference publicly. Maybe he told his wife or some friends, but I doubt it will come out. In the last few days, the candidates have been seizing on his death to talk about how and who to replace him with on the U.S. Supreme Court.   But which candidate would Scalia have actually liked? We can only speculate. My best guess, based upon the issues that Scalia held near and dear to his heart, Scalia would have voted for Ted Cruz, or at least greatly supported him.
Here are some reasons why. When Ted Cruz was Texas solicitor general he argued before the Supreme Court 9 times. In some of the significant cases, Scalia sided with Ted Cruz's position. For example, a state court found a man guilty of raping his eight-year-old stepdaughter, and he was sentenced to death for raping a child under twelve. The Supreme Court in a 5 to 4 decision held that the Eighth Amendment bars states from imposing the death penalty against people convicted of raping young children. Scalia, dissented, voting to uphold the state law — and in favor of the Ted Cruz's position.
Like Scalia, Cruz is a originalist when it comes to the Second Amendment. This issue gets both of them hot and bothered under the collar. Cruz was the Solicitor General for Texas, one of the named parties, when the Supreme Court overturned D.C's ban on firearms in District of Columbia v. Heller. This is a pivotal decision in Second Amendment legal history, and it was written by Scalia himself. The court held that the District's total ban on handgun possession amounted to a prohibition of a class of "arms" that Americans use for self-defense, and therefore violated the 2nd Amendment. The two clearly see eye to eye on this.
On the issue of gay marriage, Cruz and Scalia are also pretty similiar. Cruz recently said he would support a constitutional amendment to ban gay marriage, after the Supreme Court's controversial decision legalizing it in Obergefell v. Hodges. Scalia wrote in a strongly worded dissent:
What really astounds is the hubris reflected in today's judicial Putsch. These Justices know that limiting marriage to one man and one woman is contrary to reason; they know that an institution as old as government itself, and accepted by every nation in history until 15 years ago, cannot possibly be supported by anything other than ignorance or bigotry. And they are willing to say that any citizen who does not agree with that, who adheres to what was, until 15 years ago, the unanimous judgment of all generations and all societies, stands against the Constitution.
Lastly, when it comes to international law, Cruz and Scalia also seem to be somewhat aligned. Cruz argued for Texas in Medellin v. Texas, In that Supreme Court decision (which Scalia sided with the majority), the Court held that an international treaty is not binding on domestic law unless Congress specifically enacts the agreement. The case involved a Mexican national who was convicted and sentenced to death for participating in the rape and murder of two teenage girls. The man tried to argue that the state of Texas had violated his rights under the Vienna Convention. The majority, written by John Roberts, found in favor of Texas.
So while we will never know for sure who Scalia supported, if you look closely at their judicial philosophies, Scalia may have very well supported a fellow Harvard Law School grad —  Ted Cruz.
Have a tip we should know? [email protected]
Rachel Stockman - President / On Air Host