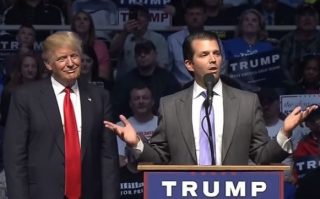 Last month, Donald Trump Jr. tweeted an image of a bowl of Skittles in a white bowl, with the message, "If I had a bowl of skittles and I told you just three would kill you. Would you take a handful? That's our Syrian refugee problem."  The image also included a logo for the Trump/Pence campaign, with the slogan, "Make America Great Again." He tweeted this along with the text, "This image says it all. Let's end the politically correct agenda that doesn't put America first" and the hashtag #trump2016.
The tweet left a bad taste in the mouths of those who believed that it was insensitive to refugees and oversimplified the issue. Soon after, photographer David Kittos came forward, saying that he took the picture of the candy bowl, and owns the copyright. Kittos said Trump did not have permission to use it, and demanded that it be taken down. Trump obliged.
This image says it all. Let's end the politically correct agenda that doesn't put America first. #trump2016 pic.twitter.com/9fHwog7ssN

— Donald Trump Jr. (@DonaldJTrumpJr) September 19, 2016
But Kittos isn't done yet, apparently. On Tuesday, he filed a lawsuit in federal court against Donald Jr., Donald Sr., the Trump campaign, and Vice Presidential candidate Mike Pence. Kittos alleges that the tweet was a campaign message, and that both Trumps, Pence, and the campaign are liable for allowing it.
The Trump campaign, as mentioned in the lawsuit, stood by the tweet at first, saying that Donald Jr. was "a tremendous asset to the campaign."
Kittos says in his complaint that the "unauthorized use of the Photograph in the Advertisement and as part of the Campaign was to influence public opinion of Defendant Trump Sr.'s and Defendant Pence's candidacies as they run for President and Vice President of the United States during the 2016 election." He goes on to state that Trump's use of the image "is reprehensibly offensive to [Kittos] as he is a refugee of the Republic of Cyprus who was forced to flee his home at the age of six years old." Kittos also brought up that due to the nature of social media, Trump Jr.'s post encouraged additional people to share the image without permission, and that Trump and the campaign should have known that.
Kittos is seeking monetary damages for any harm he has suffered, and for any profits that Trump, the campaign, or the other defendants gained as a result of using the image.
LawNewz.com reached out to the Trump campaign for comment, and will provide an update should they respond.
David Kittos v Trump by LawNewz on Scribd
[Image via screengrab]
Have a tip we should know? [email protected]