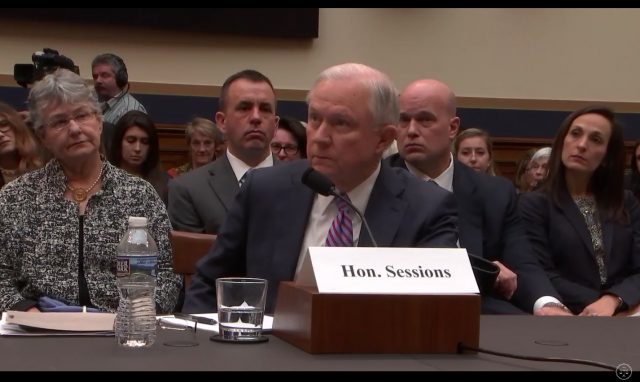 Attorney General Jeff Sessions found himself in the hot seat today–and some of his responses are sure to catch observers' eyes.
His statements were during an appearance before the House Judiciary Committee. Sessions was routinely grilled by Democrats on alleged discrepancies and lies made during prior testimony before the Senate Judiciary Committee in October.
At one point, however, the conversation turned to President Donald Trump's use of Twitter and one tweet in particular. On July 24, 2017, Trump tweeted,"So why aren't the Committees and investigators, and of course our beleaguered A.G., looking into Crooked Hillarys [sic] crimes & Russia relations?"
Ranking House Judiciary Committee Member John Conyers, Jr. questioned Sessions about the propriety of such a statement coming from the president and asked whether it brought improper influence to bear on any potential investigation along the lines described in the tweet. After fumbling over his words for a few seconds, Sessions paused and the interaction unfolded like this:
Sessions: A president cannot improperly influence an investigation.
Conyers: Okay.
Sessions: I have not been improperly influenced and would not be improperly influenced.
Earlier, Sessions began his testimony by making note of the progress and change in priorities his Department of Justice has undertaken in the first few months of the Trump administration.
Sessions then pivoted to directly address accusations related to the Russian issue–focusing on revelations regarding former Trump campaign foreign policy adviser George Papadopoulos after his guilty plea was unsealed and made public last month. Sessions said:
My answers have not changed. I've always told the truth. I've answered every question as I understood them to the best of my recollection…Frankly I had no recollection until I saw the news reports…I do now recall the meeting which Mr. Papadopoulos attended. After reading his account, and to the best of my recollection, I wanted to make clear to him that he was not authorized [to communicate with the Russians] as a representative for the Trump presidential campaign.
Sessions went on to proclaim, "I would gladly have reported it, had I remembered it, because I pushed back against his suggestion, which I believed to be improper."
Sessions also said he didn't remember anything about any discussion with Carter Page. A former Trump adviser, Page has been accused of coordinating a campaign trip to Russia. Of Page, Sessions said, "I have no recollection of any passing conversation Carter Page had with me." He went on:
You've all been part of campaigns, but you haven't been part of presidential campaigns. And you haven't been part of the Trump campaign. It was a brilliant campaign, I think, in many ways, but it was a form of chaos every day from day one…I have been asked to remember details from a year ago about who said what to who and when…In all of my testimony, I can only do my best to answer your questions to the best of my ability and memory. I will not accept–and I reject–accusations that I have ever lied. That is a lie.
Sessions also had an interesting answer when pressed by Conyers as to another aspect of a potential investigation into Hillary Clinton. Conyers asked the attorney general, "Are you recused from investigations that involve secretary Clinton?"
Somewhat haltingly, Sessions responded, I cannot answer that question 'Yes' or 'No,' because to reveal recusal [one way or another] in an investigation would reveal the existence of that investigation. And I have been advised…not to reveal that information."
[image via screengrab]
Follow Colin Kalmbacher on Twitter: @colinkalmbacher
Have a tip we should know? [email protected]