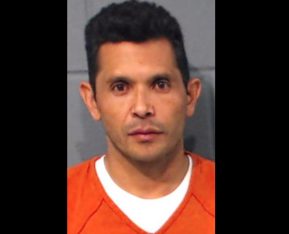 High profile criminal cases involving often times previously deported undocumented immigrants, have become major talking points for some Republican politicians wanting to show they are tough on border security.  President-elect Donald Trump made the alleged murder of Kate Steinle by an undocumented immigrant, who had been previously deported five times, a center piece of  his initial campaign argument.  There is now another case involving a undocumented immigrant that you will likely soon hear about, if you haven't already.  And the alleged details of this latest case are possibly even more horrific.
Tomaz Tomas Martinez-Maldonado, 38, is undocumented immigrant accused of raping a 13-year-old girl. Records from the U.S. Immigration and Customs Enforcement uncovered by the Associated Press earlier this year reportedly show the alleged perpetrator, Martinez-Maldonado, has been deported 10 times from the United States since 2003.  Additionally, Martinez-Maldonado has also been voluntarily removed from the U.S. another nine times over the same time period.
The case caught the attention of lawmakers earlier this month, including U.S. Sen. Chuck Grassley who fired off a rather angry letter to Department of Homeland Security Secretary Jeh Johnson.
In the letter, lawmakers asked the DHS secretary to provide answers to a number of questions and to provide information about Martinez-Maldonado's criminal and immigration history.   They seem especially interested in how he was able to re-enter and remain in the country despite his criminal background.
"This is an extremely disturbing case. In order for Congress to better understand the circumstances that led to this alleged rape of a child, we request information about Martinez-Maldonado's criminal and immigration history, and why he was able to enter and remain in the country despite his unlawful status," the lawmakers wrote in the letter.
The AP investigation found Martinez-Maldonado has been previously convicted of multiple crimes in several states, not including the most recent alleged attack.
The alleged attack on the 13-year-old victim occurred on board a Greyhound Bus on September 27 in Geary County, KS.   Martinez-Maldonado is accused of raping the girl and is currently awaiting a hearing on Jan 10th while being held in the Geary County Jail in Junction City, KS.  Federal immigration officials tell the Chicago Tribune newspaper that a detainer has been placed on Martinez-Maldonado, which, in theory, ensures ICE will be notified if state officials decide to release him.
Topeka immigration attorney David Trevino told the newspaper that he has helped out the Martinez-Maldonado family in the past, but he is not handling this case.
Trevino is quoted as suggesting, "(President-elect Donald Trump) can build a wall 100 feet high and 50 feet deep, but it is not going to keep family members separated. So if someone is deported and they have family members here … they will find a way back — whether it is through the air, under a wall, through the coast of the United States."
As Georgetown law professor Jonathan Turley noted in a blog post on the case, it is unlikely that "immigration advocates will welcome such public statements which will only magnify the anger on the Capitol Hill," especially with Sen. Grassley and company already having the case on their radar.
[image via Geary County Jail]
Have a tip we should know? [email protected]