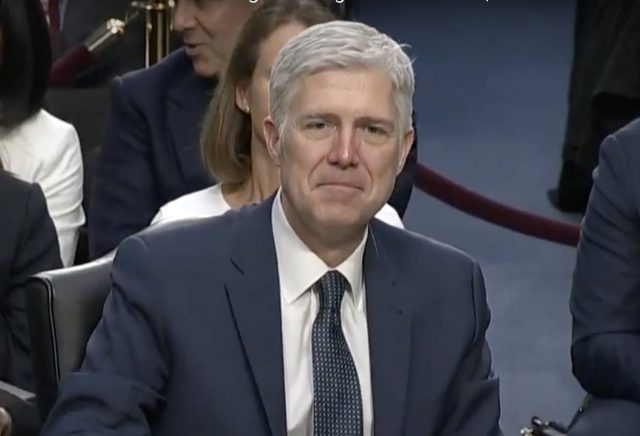 Supreme Court nominee Neil Gorsuch faced another day of grilling from Senators on Capitol Hill.  Democratic Senators in particular were interested in really nailing down Judge Gorsuch's  position on abortion and, most importantly, his view on Roe v. Wade, the landmark case protecting women's right to abortions.
Illinois Sen. Dick Durbin got the nominee to admit that he accepts Roe"as the law of the land."
Although he has never ruled directly on abortion from the bench, Gorsuch has caused some concern to liberal groups who believe that he would be anti-– abortion and vote in favor of cases that may weaken a woman's right to choose.
Sen. Durbin asked Gorsuch about his past writings on assited in which he wrote, "The intentional taking of human life by private persons is always wrong."  Durbin wanted to know how Gorsuch that line of thinking applied to his thoughts on the right to abortion.
"As the book explains, the Supreme Court of the United States has held in Roe v. Wade that a fetus is not a person for purposes of the 14th Amendment and the book explains that," Gorsuch explained as his reasoning.
Durbin then clarified if he accepted that, and Gorsuch replied,"I accept the law of the land, senator, yes."
[image via screengrab]
Have a tip we should know? [email protected]