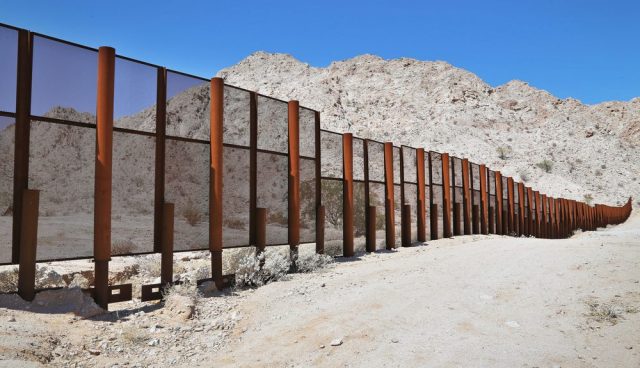 The American Civil Liberties Union of Northern California announced two administrative tort claims against U.S. Customs and Border Protection, alleging that one of their agents sexually assaulted two undocumented women who were being detained at the time after crossing the Mexican border. One of the alleged victims, Clarita, was 19 at the time, and her sister, whose identity is being withheld, was only 17.
They had been traveling from Guatemala, fleeing that country and trying to find their mother in the U.S., when they wound up in Presidio, Texas in July 2016. Clarita and her sister were lost and flagged down U.S. border patrol  officers for help. Two officers allegedly then brought them to a border facility.
In remarks to the media translated from Spanish, Clarita described what happened next.
Clarita says a different agent directed them to a room, saying there would be food there. The agent said he had to do a security check, and allegedly asked Clarita to take off her shirt. Clarita asked why, but complied, and was then told to remove her bra and underwear. She kept asking why, but when the agent threatened to do it for her, Clarita then removed her bra and showed that she was not hiding anything illegal. The agent then allegedly started touching her breasts. "Then he told me to take off my underwear," Clarita said, "and I asked once again, why." She complied, and the agent allegedly touched her genitals, then told her to get dressed. He then took Clarita's 17-year-old sister and allegedly sexually assaulted her too.
The agent then contacted the girls' mother and told her where they were. They had not seen their mother in 10 years.
Clarita later described what happened to the agents who first brought them in, asking if what happened was okay. One agent said, "What?!" in surprise.  Clarita said another agent accused her of lying and said the agent who allegedly assaulted her was doing his job.
Later on, Clarita said, other officials questioned her and her sister and apologized for what happened.
After three days in CBP custody, Clarita and her sister were released and boarded a bus to California, where they reunited with their mother. After getting to Fresno, the ACLU of Northern California learned about what happened through a community member, and connected with them.
The complaints seek monetary damages and raise claims of false imprisonment and intentional infliction of emotional distress, in addition to sexual assault.
 Mitra Ebadolahi, an attorney with the ACLU of San Diego & Imperial Counties, said that Clarita and her sister were not trying to evade U.S. immigration law. "They followed the procedures and asked for help," Ebadolahi said. "Instead of getting help, they were abused."
Ebadolahi said that this case is "unfortunately representative of a pattern … of sexual abuse," and referred to CBP as the "largest, most unaccountable law enforcement agency in the country."
Angelica Salceda, the staff attorney with the ACLU of Northern California who is handling the case, said that the claims aim "to ensure that no one else has to go through what [Clarita] and her sister went through."
Clarita had a message for border officials, hoping they will have more compassion for people like her in the future. "Just because we are not from here," she said, "please have respect. We are human beings, and we are also children."
The CBP released the following statement
"U.S. Customs & Border Protection cannot comment on pending litigation, however, we take allegations of misconduct seriously and there is no room in CBP for the mistreatment or misconduct of any kind toward those in our custody.   We do not tolerate corruption or abuse within our ranks, and we fully cooperate with any criminal or administrative investigation of alleged misconduct by any of our personnel, on or off duty. "
[Image via Shutterstock]
Have a tip we should know? [email protected]