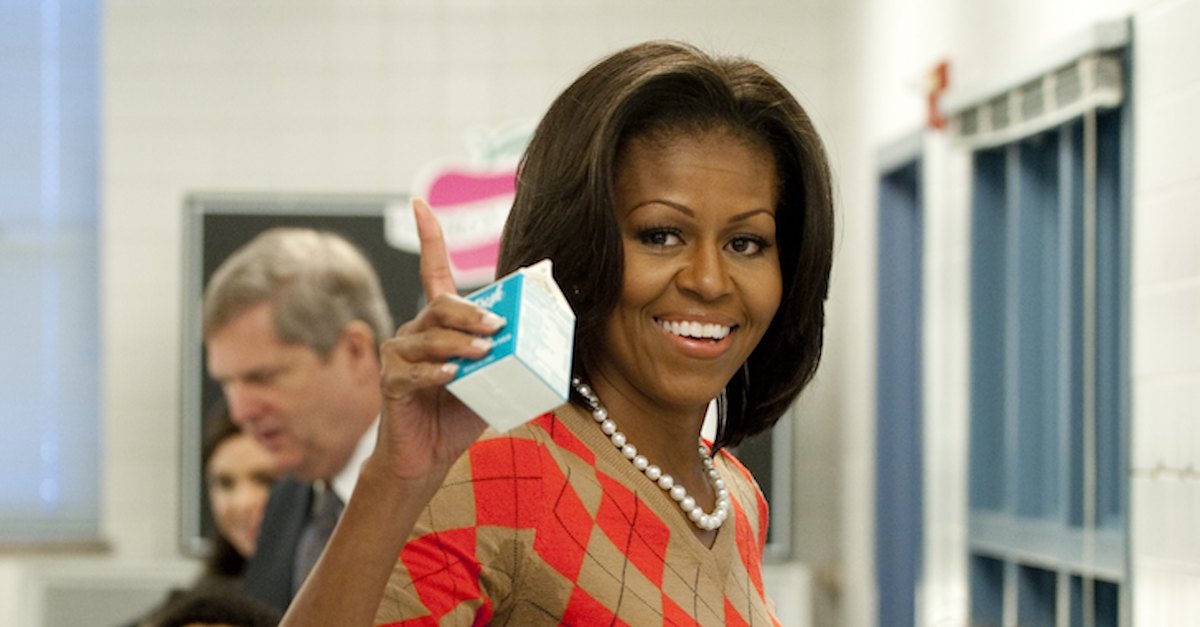 Several State Attorneys General have filed a civil lawsuit in the Southern District of New York against U.S Department of Agriculture (USDA) and its secretary Sonny Perdue for "significantly weaken[ing]" the federal nutrition standards for "sodium and whole grains in school breakfasts and lunches" that were put in place by former First Lady Michelle Obama in 2012, as part of her healthier eating initiative.
Attorneys General for the states of New York, California, Illinois, Minnesota, New Mexico, Vermont, and the District of Columbia are all named as plaintiffs in the lawsuit. All of them are Democrats.
They claim that the USDA, under President Donald Trump's watch, made changes in 2018 to the aforementioned standards "without providing the public an opportunity to comment on them and in contravention of nutritional requirements for school meals established by Congress." The main issue appears to be sodium and whole grain levels.
"USDA issued a rule in 2012 ('2012 Rule') establishing major nutritional standards for school meals based on the Dietary Guidelines for Americans and the 2009 Nutrition Board Study," they said. "Those standards included phased-in sodium restrictions on a gradual, ten-year timeline, to reduce the sodium content of school meals, as well as a requirement increasing the whole grains served in schools."
Then came 2018, when, they say, USDA issued a new rule that "weakened" the standards but "failed to give the public notice of and an opportunity to comment on the 2018 changes to the sodium and whole grain requirements, as required by the Administrative Procedure Act":
USDA issued a rule ('2018 Rule') that significantly weakened the nutritional standards in the 2012 Rule by (1) eliminating the final maximum sodium target scheduled to go into effect in the 2022-2023 school year; (2) delaying by five years an intermediate maximum sodium target scheduled to go into effect in the 2019-2020 school year; and (3) cutting in half the amount of whole grains required to be served, beginning in the 2019-2020 school year.
The plaintiffs allege that this sleight-of-hand resulted in sodium and whole grains changes "without observance of procedure required by law." They further alleged that these changes "were not based on tested nutritional research, the latest Dietary Guidelines, or the 2009 Nutrition Board Study, as required by statute."
They called the change out of step with the law and "arbitrary [and] capricious."
State AGs sue to protect Michelle Obama's school lunches by Law&Crime on Scribd
[Image via Saul Loeb/AFP/Getty Images]
Have a tip we should know? [email protected]