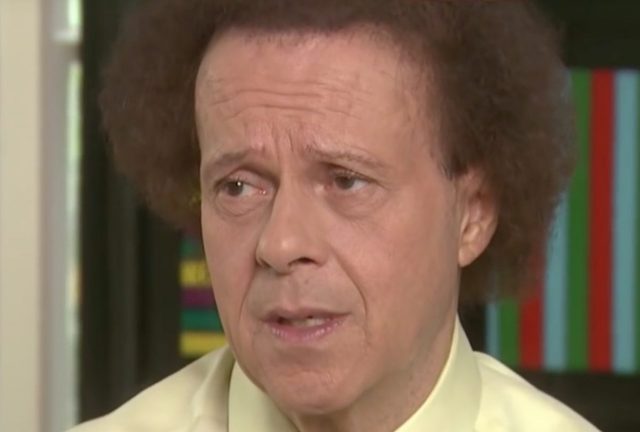 Fitness guru Richard Simmons had disappeared from the public eye, leading to swirling speculation of his whereabouts and well-being. Now, Simmons is suing National Enquirer, Radar Online and their parent company American Media, Inc. (AMI), for what he claims is the "cruel and malicious publication" of stories that while Simmons was out of the spotlight, he was in the process of becoming a woman.
The reports in question, published between June 2016 and March 2017, allegedly said that Simmons was looking into hormone therapy, breast implants, castration, and "shocking sex surgery." Simmons says it's just not true.
"Principles of freedom of speech and press may protect their prerogative to mock and degrade the LGBTQ community. But freedom to speak is not freedom to defame," Simmons argues in his complaint, obtained by LawNewz.com. "Mr. Simmons, like every person in this nation, has a legal right to insist that he not be portrayed as someone he is not. Even the most ardent supporter of sexual autonomy and LGBTQ rights is entitled to be portrayed in a manner that is truthful."
Simmons claims that the false information came from Mauro Oliveira, who has allegedly tried to blackmail Simmons since 2015. The lawsuit alleges that Oliveira offered publications information about Simmons in exchange for money, "with the intention of destroying the career and reputation of Mr. Simmons." Simmons claims that Oliveira later contacted Simmons' publicist, saying that he was misrepresented, and would go on record in Simmons' defense he Simmons paid him. The lawsuit claims that Simmons forwarded the email to AMI, yet Radar and the Enquirer continued to publish stories about Simmons being a woman.
A spokesperson for AMI said that there was no way that they should have known about extortion, or that the information about Simmons might be false. The same spokesperson told LawNewz.com that Simmons had contacted the company last year with dissatisfaction over reports, and AMI had been willing to work with Simmons, but then he ceased communications until about a month ago, when Simmons again contacted them about an article, but then filed his lawsuit before any out of court understanding was reached.
In order for the libel lawsuit to be successful, Simmons would have to prove that the statements are false, were published with reckless disregard for the truth, and that they were damaging. THR's Eriq Gardner noted that this is the first time that someone is claiming defamation based on a report of a sex change. The court will have to determine whether that alone should be considered damaging.
In a statement, The National Enquirer said:
This is a legitimate news story that demands coverage. Moreover, Mr. Simmons is raising a false equivalency in suggesting The ENQUIRER's coverage of gender identity somehow implies it has a stance or position on this. We do not. At the end of the day, how Mr. Simmons lives his life is news and of interests to our readers. Our story was based on credible sources who were in Mr. Simmons' inner circle. The photos a source provided to The ENQUIRER are real — and speak for themselves. We stand by our reporting about Mr. Simmons, and intend to vigorously defend this lawsuit and win public vindication of our reports.

We will also aggressively pursue our ongoing investigation into his life and who is really behind this bizarre and meritless lawsuit.
Note: This article has been updated with statements from The National Enquirer and an AMI spokesperson.
 [Image via screengrab]
Have a tip we should know? [email protected]