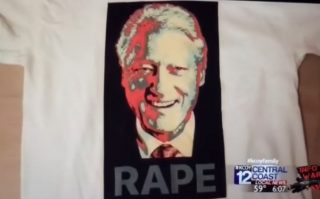 Last fall, Mark Gallagher went to a live taping of NBC's The Today Show, wearing a t-shirt with an image of President Bill Clinton's face, with the word "rape" underneath, modeled after a common image of President Barack Obama that accompanies the word "hope." According to a $52 million lawsuit he filed against the network, security officials promptly beat him up while removing him from the premises. NBC recently filed a response, and basically said Gallagher had it coming, TMZ reported.
Gallagher, who reportedly supported Donald Trump in November's election claims that he wore the shirt in an attempt to be seen on TV, as The Today Show allows fans to stand behind the studio's windows to get on camera. Court documents say that the stunt was done after Infowars' Alex Jones offered $1,000 to anyone who could be seen on national TV for five seconds wearing the shirt.
When he showed up, Gallagher didn't even get a chance to get on camera before security took him away and beat him up, his complaint alleges. Gallagher was arrested for trespass, but that case will be dismissed if he can stay out of trouble for six months.
NBC disputed Gallagher's version of the event in a recent court filing, but argued that by wearing such an inflammatory shirt, Gallagher assumed the risk of someone getting upset and responding. While not saying that Gallagher deserved it, the network claimed that Gallagher should have anticipated possible reactions to his behavior. NBC also claimed that Gallagher failed to minimize the harm that he suffered because he didn't seek prompt medical help, the website reported.
LawNewz.com attempted to reach Gallagher's attorney, Richard Luthmann, for comment, but has not received a response. We've also reached out to NBC for comment.
[Image via screengrab]
Have a tip we should know? [email protected]