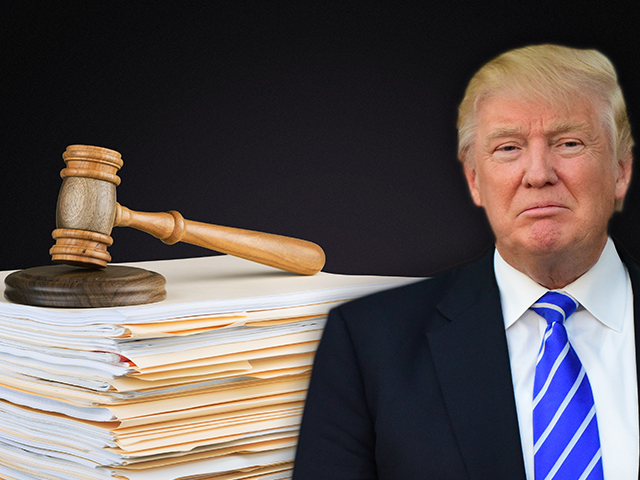 President Donald Trump is not shy about using the legal system to try to get his way. Over his 30 year career, Trump and his businesses have been named in 3,500 legal actions in federal and state court. Many of those cases were initiated by Trump himself. Sometimes he won, many times he lost, and other times he forced people to settle with him — or was forced to settle himself (i.e. the Trump University case.)  Now that he's been elected president, many others are following suit. Literally.
Since, Trump pulled through with a surprising victory on November 8, 2016, LawNewz has determined that he has already been sued more than 34 times. And that's not counting possible suits that we were unable to track down in municipal and state courts. According to our research, among the cases, he's been sued for defamation stemming from sexual assault claims, for violating the U.S. Constitution, and for violations of civil rights laws.  Also, sprinkled in the docket are numerous frivolous lawsuits, which have little chance of going anywhere but are amusing nonetheless. Many plaintiffs tried to stop Trump from taking office, others tried to stop him from being sworn in, and one even tried to enjoin Supreme Court Chief Justice John Roberts from administering the oath of office on Inauguration Day. An underlying theme of the lawsuits was concern that the 2016 Election was influenced by the Russian government, and claims that President Trump's sprawling business ties could effect his leadership ability.  Below you will find a list of some of the more noteworthy, interesting or just plain entertaining cases. If you discover anymore, send them our way!
Citizens for Responsibility and Ethics v. Trump
A group of high-profile ethics attorneys filed a federal lawsuit on behalf Citizens for Responsibility and Ethics several days after Trump was sworn in.  The lawyers contend that from the moment Trump took office he violated the Emoluments Clause of the U.S. Constitution by allowing his businesses to take payment from foreign governments. "These violations of the Foreign Emoluments Clause pose a grave threat to the United States and its citizens. As the Framers were aware, private financial interests can subtly sway even the most virtuous leaders, and entanglements between American officials and foreign powers could pose a creeping, insidious threat to the Republic," the lawsuit reads. Trump has dismissed the lawsuit as being "totally without merit." Here are LawNewz.com, we've posted articles from attorneys who believe the lawsuit has no chance, and others who believe it could proceed. The biggest hurdle for the plaintiffs may be to prove that they have standing to sue, and were injured by the President's actions.
Summer Zervos v. Trump 
Several days before Trump was sworn in, former Apprentice contestant Summer Zervos filed a defamation lawsuit in a New York court claiming that Trump defamed her by calling her a liar. Trump made the statements after more than a dozen women, including Zervos, came forward claiming that he had sexually harassed or assaulted them.  Zervos claims that Trump kissed and groped her in a Beverly Hill hotel room in 2007.  "As I was about to leave, he again kissed me on the lips," Zervos said. "This made me feel nervous and embarrassed. This is not what I wanted or expected." High-profile California based attorney Gloria Allred who filed the case said they withdraw the suit if Trump apologized and admitted he lied. So far, that hasn't happened. Allred also says that Zervos took and passed a polygraph test. She also suggested she would subpoena copies of unaired, unedited outtakes from when Trump appeared on the Apprentice show.
Vinzen Koller v. Jerry Brown et al, Plus Donald Trump (Intervenor Defendant) 
Vinzen Koller, a Presidential Elector, sued California Governor Jerry Brown. Trump intervened in the lawsuit as a defendant in the case. Koller challenged the constitutionality of a California law that obligated presidential electors to vote for the State's popular winner. Even though Koller was a Clinton elector, he was hoping his case would convince reluctant Donald Trump electors to deny the Republican nominee the vote when the Electoral College met on December 19, 2016. As we all know that didn't happen and Hollers' motion for a temporary retraining order and preliminary injunction was denied by a federal judge because he could not find that the elector would suffer from "immediate injury."
Frederic Shultz v. Trump
A Clinton voter, Frederic Shultz, from San Diego, California, filed an emergency motion in federal court the day before the inauguration, asking a judge to stop Chief Justice John Roberts from swearing in Donald Trump as President. He contended that the rights of all other citizens who voted for Clinton were violated under the Fifth Amendment and Fourteenth Amendment's guarantees of equal protection of the law. Needless to say, his lawsuit didn't go much of anywhere.
Sheila McCrea v. Trump
Sheila McCrea filed a lawsuit against Trump (along with Obama) expressing great concern that the Russians were said to have influenced the 2016 election, and feared the Trump could be vulnerable to further blackmail by the Russian government. It's not entirely clear what McCrea's legal claim is — other then her general fear over what a President Trump Presidency will bring. She has apparently appealed directly to the U.S. Supreme Court and is seeking an injunction to prevent the President for taking any official action until the court has made a final ruling. Don't hold your breathe on that one either.
Anderson Fernanders v. Trump
Anderson Fernanders, from Flint, Michigan, filed a federal lawsuit requesting a "three-judge" court order claiming that Trump became a public enemy under GENERAL ORDER 100 under Martial Order (ALF-081096-ORDER 101) and he is calling for Trump's arrest.  A quick google search of this particular law (or order?) turns up absolutely no results. Interestingly, Mr. Fernanders claims he is commander of the Grand Army of the Republic Natural Person. All righty then.
Kelly Sennholz and Jerroll Sanders v. Trump
Kelly Sennholz and Jerroll Sanders, from Colorado, filed a pro se request for emergency order asking whether the "United States failed to protect the States from invasion during the 2016 election. " The 22 page complaint, complete with a table of contents, asks the court to enjoin Congress from ratifying the 2016 federal election results, since the United States "failed to protect States' cyber territories from foreign invasion."  The lawsuit claims " there exists clear and convincing evidence that some elected officials who prevailed in the 2016 election were 'selected' by a foreign power rather than elected."  The lawsuit was dismissed a few days later by a federal judge.
As you can see the lawsuits are running the gamut from having absolutely no legal chance to raising some legitimate legal and constitutional questions. As for whether Trump can be sued while President, LawNewz.com's editor Ronn Blitzer wrote a lengthy piece about that but bottom line is that he is not immune from civil lawsuits just because he is President.
The Supreme Court decided this when Paula Jones sued President Bill Clinton while he was in office. Jones alleged that Clinton sexually harassed her while he was Governor of Arkansas. Clinton argued that any action against him should be held off as long as he was in office. The Court disagreed, ruling that the President can indeed be sued for alleged actions that took place prior to taking office or that are not related to the Presidency.  Clearly some of the lawsuits involving Trump do directly involve his presidency, but others like the Summer Zervos case involve conduct that occurred prior to Trump winning the 2016 election. If this keeps up, it's going to be a busy year for attorneys — and editors here at LawNewz– as we work to keep up with all of this legal action!
Ronn Blizter contributed to this report. 
Have a tip we should know? [email protected]
Rachel Stockman - President / On Air Host