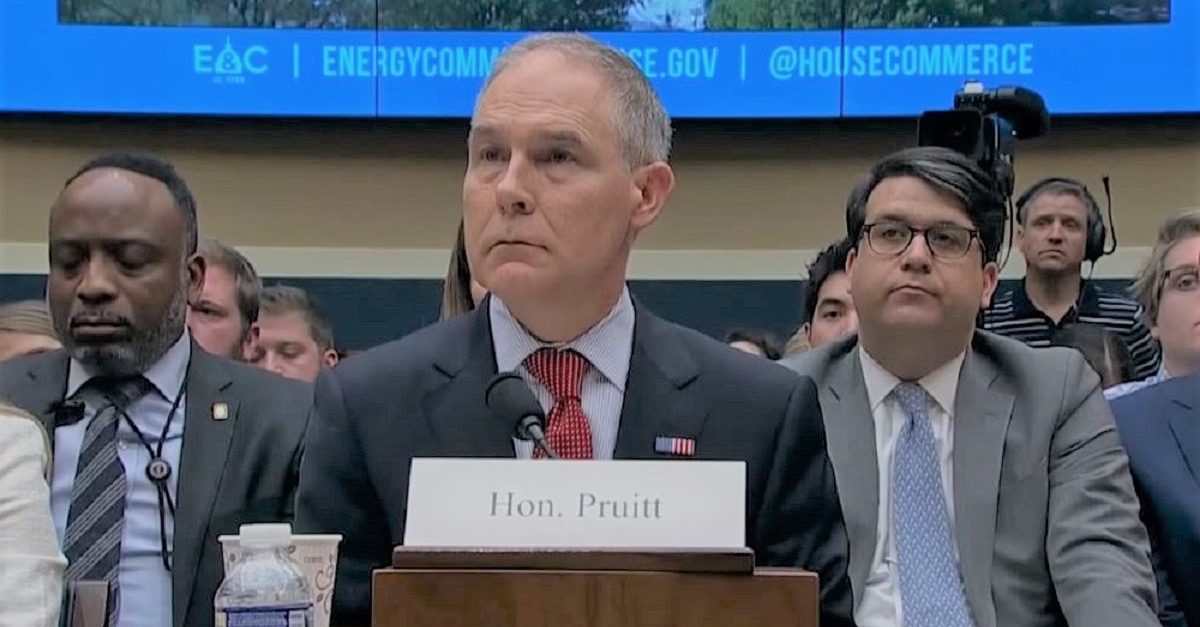 President Donald Trump announced via Twitter on Thursday that Scott Pruitt has resigned from his post as the Administrator of the Environmental Protection Agency.
…on Monday assume duties as the acting Administrator of the EPA. I have no doubt that Andy will continue on with our great and lasting EPA agenda. We have made tremendous progress and the future of the EPA is very bright!

— Donald J. Trump (@realDonaldTrump) July 5, 2018
"I have accepted the resignation of Scott Pruitt as the Administrator of the Environmental Protection Agency," Trump said in a tweet. "Within the Agency Scott has done an outstanding job, and I will always be thankful to him for this."
Despite the president's praise, Pruitt's stint in office was marred by a seemingly endless string of scandals, many having to do with his use of government funds. Records showed that he once took a military helicopter to visit a coal mine, and spent millions on high-end travel accommodations while in office.
There were other concerns as well. Last month, the Government Accountability Office announced that they were investigating Pruitt for possibly spreading unlawful propaganda from the EPA's Twitter account, and earlier this week a whistleblower claimed that Pruitt would have staff members alter his public schedule, omitting meetings that that would potentially "look bad" if the public knew about them.The whistleblower, Kevin Chmielewski, said he was fired from the EPA after asking questions about Pruitt's spending.
In his resignation letter, Pruitt said, "[T]he unrelenting attacks on me personally, my family, are unprecedented and have taken a sizable toll on all of us."
Pruitt will be replaced in the interim by EPA Deputy Andrew Wheeler, who will serve as Acting Administrator of the EPA.
[Image via Time screengrab]
Have a tip we should know? [email protected]