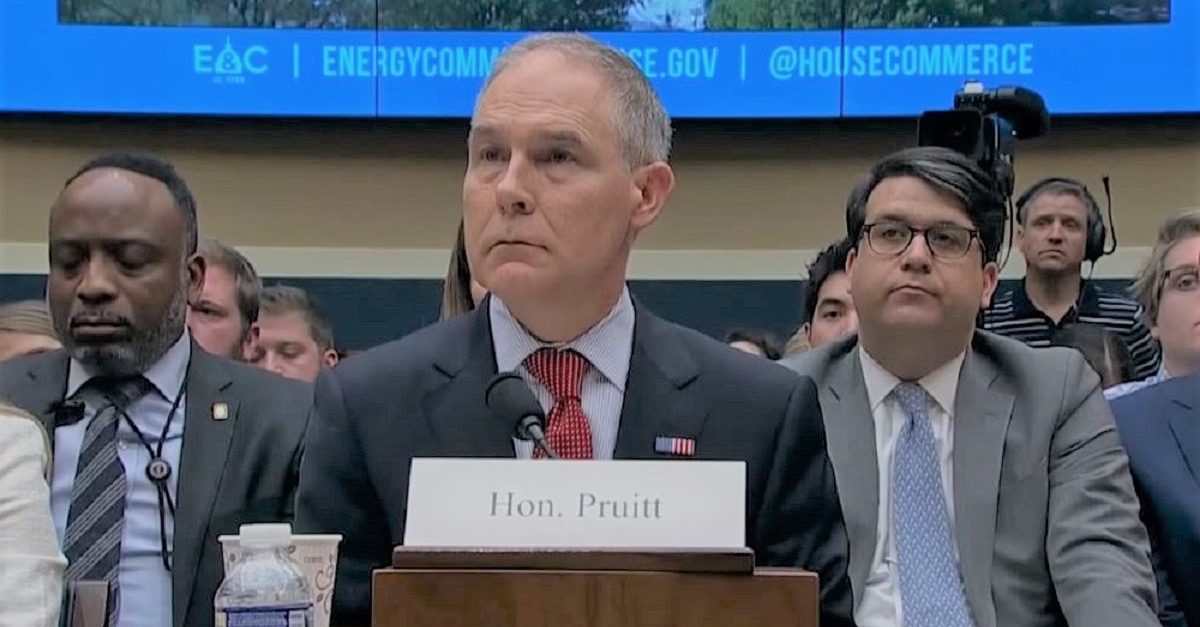 The Government Accountability Office announced on Tuesday that it was investigating the Environmental Protection Agency amidst allegations the EPA engaged in unlawful propaganda or publicity on the public dime.
At issue is a tweet sent by the EPA's official Twitter account on April 13. The tweet was sent after President Donald Trump's nominee Andrew Wheeler, a former coal lobbyist, was approved by the Senate as the agency's deputy administrator. The official tweet made note of Wheeler's confirmation and added:
The Democrats couldn't block the confirmation of environmental policy expert and former EPA staffer under both a Republican and a Democrat president.
In response to that tweet, Senator Tom Udall (D-NM) sent a two-page letter to the GAO on May 15. Udall's letter requests, "a legal opinion from the U.S. Government Accountability Office concerning whether the [EPA] violated the annual governmentwide statutory prohibition on the use of funds for publicity or propaganda and the Antideficiency Act" when posting the tweet in question.
Udall's letter elaborates upon the accusation:
The Financial Services and General Government Appropriations Act, 2016, provides that agencies may not use appropriations for "publicity or propaganda purposes," which includes prohibiting purely partisan communications. In my view, this tweet does not advance an information function of the EPA and is purely partisan in nature.
The letter also notes that the EPA had already fulfilled its "information function" by announcing Wheeler's confirmation in a tweet sent the day before. The first tweet didn't include any digs at the Democratic Party, but simply announced the Senate's approval.
Udall's letter continues, "This partisan taunting was not only in poor taste, it may also have been an illegal use of taxpayer dollars. The appropriations law prohibiting federal agencies from spending on publicity and propaganda was enacted for a reason—to ensure that taxpayer dollars only support official activities, not political speech."
The GAO's review was announced Tuesday morning in response to Udall's letter. The EPA has already been investigated over this tweet before. The U.S. Office of Special Counsel previously determined the tweet did not violate the Hatch Act, which prohibits federal employees from electioneering while acting in an official capacity.
This review becomes the latest federal investigation to implicate EPA Administrator Scott Pruitt and his agency. At last count, Pruitt and his EPA were being investigated by the EPA's own inspector general, the White House Office of Management and Budget, Congress and now the GAO–over at least 13 separate scandals.
When previously questioned by Udall about the tweet, Pruitt said, "I was unaware of the tweet and that shouldn't have occurred. The agency should not have done that."
[image via screengrab/Time Magazine]
Follow Colin Kalmbacher on Twitter: @colinkalmbacher
Have a tip we should know? [email protected]