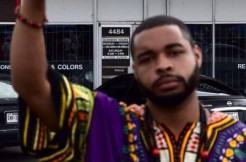 Update — July 8, 11:44 a.m. EST: ABC News reports Johnson was a reservist for the U.S. Army until April, 2015.
–
Police have identified a shooting suspect as 25-year-old Micah Xavier Johnson, The Los Angeles Times reports. Johnson was allegedly involved in an ambush style attack that killed 5 cops, and injured 7 others, as well as bystanders, during a Black Lives Matter protest on Thursday in Dallas, Texas.
Dallas Police Chief David Brown told reporters on Friday that Johnson was killed by an explosive put near him by a robot. This was done because it was too dangerous to put  officers in harm's way.
"The suspect said we will eventually find the IEDs," Brown said. "He wanted to kill officers. And he expressed killing white people, killing white officers, he expressed anger for Black Lives Matter."
No explosives have been found as of Friday morning.
Officials said Johnson, who has family ties to Texas, didn't have a known criminal history or ties to terrorist organizations.
Three other people, two men and one woman, are in police custody. According to ABC News, Mayor Mike Rawlings said information on these people aren't been released because the investigation is ongoing.
–
Follow Alberto Luperon on Twitter (@Alberto Luperon)
Have a tip we should know? [email protected]