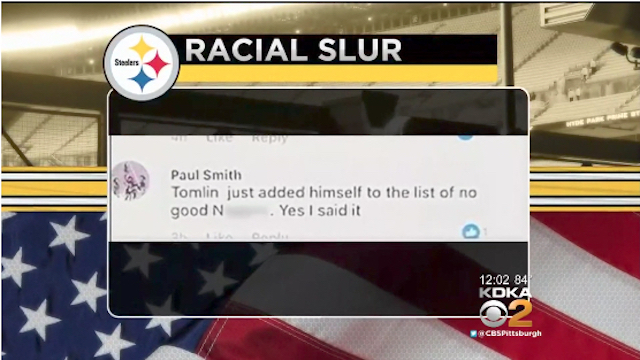 Cecil Township Fire Chief Paul Smith used a racial slur to refer to Pittsburgh Steelers head coach Mike Tomlin on Facebook.
Following the Steelers' mostly unanimous decision to remain apolitical in the wake of Colin Kaepernick-inspired protests taking root across most of the NFL games this past weekend, Smith took to social media to berate Tomlin. He wrote:
Tomlin just added himself to the list of no good [n-word]s. Yes I said it.
The Pittsburgh Steelers did not join other members of the National Football League in protesting police brutality and racism–as was the motivation behind Kaepernick's original decision to sit out–and then kneel during–the national anthem.
Nor did the Steelers join in a more vague show of "unity" with Kaepernick and the other protesters such as the Dallas Cowboys did on Monday Night Football–along with coach Jason Garrett and owner Jerry Jones–after President Donald Trump's remarks wherein he referred to the mothers of protesting athletes as bitches.
Rather, most of the Steelers–with the exception of Alejandro Villanueva–decided to take politics completely out of the equation by remaining in Soldier Field's tunnel prior to the singing of The Star Spangled Banner. Tomlin said the point of standing in the tunnel while the anthem played was to "remove ourselves from the circumstance."
Villanueva later apologized for abandoning his team.
Some critics have noted that standing for the national anthem is itself a political act–just as protesting during its playing is a form of political protest–and that NFL players were not expected to stand during its playing (or even be on the field during the national song) until just a few years ago, when the Department of Defense spent millions of taxpayer dollars on having the NFL promote patriotic propaganda in order to boost recruitment for the United States armed forces.
In fact, the recent nature of having NFL players present for the national anthem was cited by Steelers linebacker Vince Williams as the team's motivation for their ultimate decision to stay off the field completely.
Smith's racially-hateful rhetoric drew scorn almost as soon as he updated his Facebook after Tomlin and most of his team made the decision to remain in the tunnel.
The fire chief of the Pittsburgh suburb has since apologized and issued the following statement:
I am embarrassed at this. I want to apologize. I was frustrated and angry at the Steelers not standing the anthem. This had nothing to do with my Fire Department. I regret what I said. My fire department should have never been dragged into this. It was a bad judgement by me, for which I am very embarrassed, for them and my township.
[image via screengrab]
Follow Colin Kalmbacher on Twitter: @colinkalmbacher
Editor's note: this post has been updated to identify Soldier Field as the site of the game in question.
Have a tip we should know? [email protected]