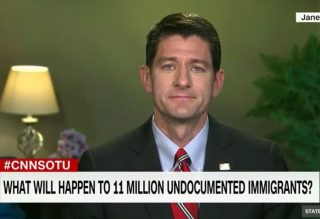 On CNN's State of the Union, host Jake Tapper asked House Speaker Paul Ryan about a number of President-elect Donald Trump's policies, including immigration, and how he will work with fellow Republicans. Tapper questioned Ryan about what will happen regarding Trump's once-proposed plan to expel roughly 11 million undocumented immigrants by using a deportation force.
"I think we should put people's minds at ease, that is not what our focus is," Ryan said about . He added that the main priority when it came to immigration was securing the border. "We've got to know who's coming and going in the country."
Tapper pushed, asking that while deportation may not be a top priority, could it be part of the plans down the road? "We are not planning on erecting a deportation force," Ryan responded. "Donald Trump's not planning on that."
This appears to contradict a statement that Trump made during an interview that will air Sunday night on '60 Minutes.' In the interview, the next President said, "What we are going to do is get the people that are criminal and have criminal records, gang members, drug dealers, where a lot of these people, probably two million, it could be even three million, we are getting them out of our country or we are going to incarcerate." Regarding non-criminal undocumented residents, Trump said, "After the border is secure and after everything gets normalized, we're going to make a determination on the people that they're talking about who are terrific people, they're terrific people but we are gonna make a determination at that.
This article has been updated with Donald Trump's comments.
[Screengrab via CNN]
Have a tip we should know? [email protected]