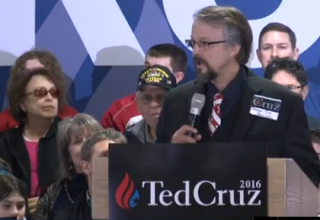 Pastor Tim Remington was shot multiple times outside his Idaho church Sunday afternoon, while walking to his car after services, Fox News reports. The leader of Altar Church in Coeur d'Alene had delivered a prayer at a rally for GOP Presidential Candidate Ted Cruz the day before, prior to Tuesday's primary.
As of Monday, police were still looking for the suspect, who was identified as Kyle Odom, 30. Witnesses observed Odom waiting in his car after attending services, before firing a weapon after the pastor exited the building. The motive for the attack is still unknown, but Remington and Odom may have known each other, according to KHQ.
Pastor Remington suffered four gunshot wounds to the back, but is currently in stable condition at an area hospital. He is expected to make a full recovery.
[h/t NY Post, screengrab via KREM]
Have a tip we should know? [email protected]