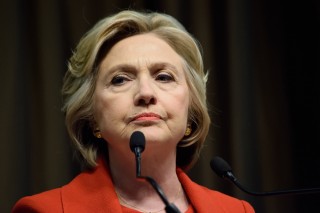 Parents of two soldiers killed in the Benghazi, Libya attack on September 11, 2012 are suing then-Secretary of State Hillary Clinton, alleging that her use of a private email server led to the deaths of their children. Pat Smith, mother of American U.S. Foreign Service member  Sean Smith, and Charles Woods, father of Navy SEAL Tyrone Woods, are represented by Larry Klayman of Freedom Watch, Inc., who filed the lawsuit on Monday in federal court.
The lawsuit claims that Clinton sent and received "confidential and classified government information" through her private email server, and that "[i]t is highly probable … that Defendant Clinton, as Secretary of State, sent and received information about Ambassador Christopher Stevens and thus the U.S. Department of State activities and covert operations that the deceased were a part of in Benghazi, Libya."
The complaint goes on to say that:
Islamic terrorists obtained the information sent and received by Defendant Clinton about the location of Ambassador Christopher Stevens and thus the U.S. Department of State and the covert CIA and other government operations in Benghazi and used it to plan, orchestrate, and carry out the horrific and devastating attack on the American diplomatic compound in Benghazi, Libya on September 11, 2012 ("Benghazi Attack"), resulting in the death of four Americans, including Sean Smith and Tyrone Woods.
Smith and Woods claim that as a result of the above, "it was reasonably foreseeable that Islamic terrorists would premeditatedly kill" their children.
They also allege that Clinton lied to them about the cause of the attack in Benghazi. They claim that Clinton told them in a private meeting that the attack "was the result of [an] anti-Muslim YouTube video that had been posted online and that the creator of the video would be arrested." The complaint alleges that Clinton knew at the time that this was not true. Smith and Woods also claim that during Clinton's Presidential campaign, she has carried out an "inflammatory smear campaign" against them and their surviving family to discredit them. The complaint states:
Clinton has negligently, recklessly, and/or maliciously defamed Plaintiffs by either directly calling them liars, or by strongly implying that they are liars, in order to protect and enhance her public image and intimidate and emotionally harm and silence them to not speak up about the Benghazi attack on at least four separate occasions.
It goes on to detail those occasions, allegedly from three interviews and one Democratic debate.
Smith and Woods are suing Clinton for wrongful death, defamation, intentional infliction of emotional distress, and other offenses. They are seeking an unspecified amount for general, economic, actual, compensatory, and punitive damages.
Smith and Woods v Clinton Complaint
Have a tip we should know? [email protected]