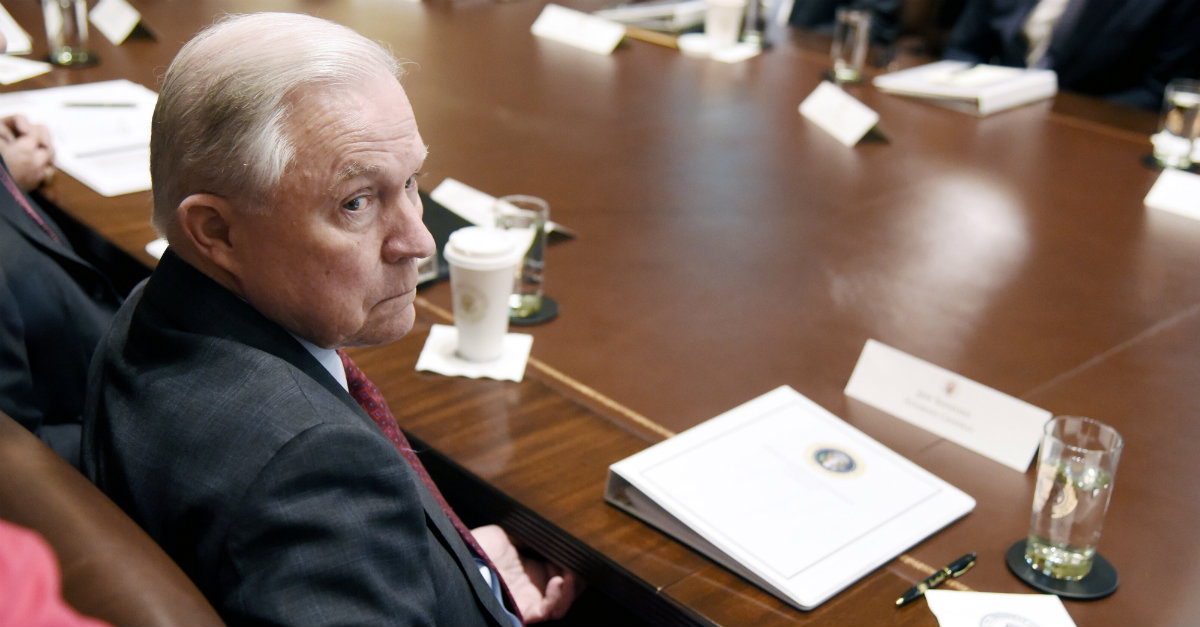 Court documents filed by attorneys for George Papadopoulos on Friday night suggest that Jeff Sessions lied under oath when questioned about his knowledge of Russian involvement in President Donald Trump's 2016 presidential campaign.
In a 16-page sentencing memorandum, Papadopoulos' defense attorneys weave a semi-maudlin tale of a budding academic and would-be aide-de-camp eager to prove his worth amidst the competitive chaos of the Trump 2016 campaign.
"As a young man, George demonstrated a keen interest in politics, international relations, and diplomacy," his defense attorneys write, eventually getting to the point:
In the summer of 2015, George attempted to step into United States presidential politics when he applied to work for Donald Trump's campaign. George supported candidate Trump's policy positions and believed that Mr. Trump was the only Republican candidate that had a chance of beating likely Democratic challenger Hillary Clinton. When George failed to secure a position with the Trump campaign, he took up with candidate Dr. Ben Carson as a foreign policy advisor…Still a stalwart supporter of Trump's bid for the presidency, George doubled down on his efforts to join that campaign and, in early March 2016, he received an interview for the position of foreign policy advisor. During his meeting with a senior Trump campaign official, George learned that the campaign's foreign policy focus would be improving relations with Russia. George landed the job despite having no experience with U.S. and Russian diplomacy.
Admittedly out of his element on the Russia equation, Papadopoulos, by way of his attorneys, notes that he leapt at an opportunity to bolster his non-existent diplomatic bona fides when it arose. The motion continues, "On March 14, 2016, George met London-based college Professor Joseph Mifsud while traveling in Italy. When Mifsud, then director of the London Academy of Diplomacy, claimed connections to the Russian Government, George thought he could utilize him and his connections to help the Trump campaign promote its policy objectives. Professor Mifsud paid young George little attention until learning of his position as one of Trump's foreign policy advisors."
Eventually, the Mifsud connection led Papadopoulos to meet with a woman he believed to be Russian President Vladimir Putin's "niece." This woman, only ever identified as "Olga," would later convince Papadopoulos that she and Mifsud "had the wherewithal" to arrange a meeting between the Trump campaign and officials with the Russian government. That meeting, of course, never occurred, but Papadopoulos apparently raised the potential tete-a-tete with various Trump campaign advisors–including the candidate himself.
The Russian promise, according to the memo, was explored during a March 31, 2016 "National Security Meeting" at the Trump Hotel. This meeting ultimately produced an infamous photograph–which is also referenced in the memo–of Papadopoulos at the table with Trump's foreign policy inner circle during the campaign. Also at that meeting and in the photograph was then-Senator Jeff Sessions. Again the sentencing memo:
Eager to show his value to the campaign, George announced at the meeting that he had connections that could facilitate a foreign policy meeting between Mr. Trump and Russian President Vladimir Putin. While some in the room rebuffed George's offer, Mr. Trump nodded with approval and deferred to Mr. Sessions who appeared to like the idea and stated that the campaign should look into it.
During testimony in front of the House Judiciary Committee on November 14, Sessions was asked whether he opposed Papadopoulos' proposal. To which Sessions responded, "Yes, I pushed back."
Law&Crime reached out to the Department of Justice for comment on this matter but no response was forthcoming at the time of publication.
[image via Olivier Douliery-Pool and Getty Images]
Follow Colin Kalmbacher on Twitter: @colinkalmbacher
Have a tip we should know? [email protected]