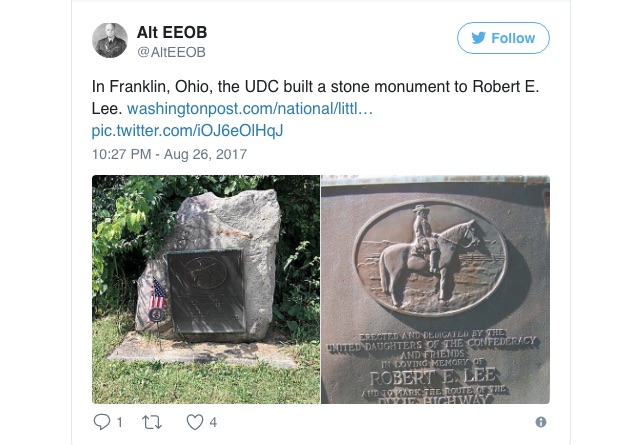 Officials in Franklin Township, Ohio plan to reinstall a plaque commemorating Confederate General Robert E. Lee after it was removed in August.
The plaque was originally located in nearby Franklin, Ohio. It was installed roughly 90 years ago by the United Daughters of the Confederacy, apparently in order to staunch the progress of African-Americans in the area.
In Franklin, Ohio, the UDC built a stone monument to Robert E. Lee. https://t.co/TG1aIXxLqT pic.twitter.com/iOJ6eOlHqJ

— Alt EEOB (@AltEEOB) August 27, 2017
Smallish and–aside from its content–unassuming, the plaque contains a paean to Lee–who is sitting atop a horse–and was formerly placed alongside the Dixie Highway. It was removed following the deadly racist violence in Charlottesville, Virginia in early August.
There, some protesters marched for and against the removal of a large statue celebrating Lee. Others marched explicitly in favor of white supremacy and American fascism. Others marched explicitly against racism and fascism. Ultimately, a 32-year-old woman, Heather Heyer, was killed by a white nationalist during those protests.
The plaque's removal was performed by Franklin city officials–who paid $2,000 to repair the plaque after it suffered some damage caused by its removal–and then returned to Franklin Township, some 40 miles north of Cincinnati.
Some Township residents were apparently angry about the plaque's removal and have prompted the township's officials to re-dedicate it and place it somewhere else.
According to the local Fox affiliate, Township Trustee Brian Morris said the new site of the plaque had yet to be determined. Complicating its new location are highway land use issues because the plaque must be at least 50 feet away from the right of way.
Donald Whisman, a Franklin Township resident, led the effort to have the plaque restored. He said:
It wasn't a right of way issue it was because some out of towners signed a petition. They got scared and the city took our monument in the middle of the night like a bunch of cowards.
It's scheduled to be replaced–and re-dedicated–sometime early next week.
[image via screengrab]
Follow Colin Kalmbacher on Twitter: @colinkalmbacher
Have a tip we should know? [email protected]