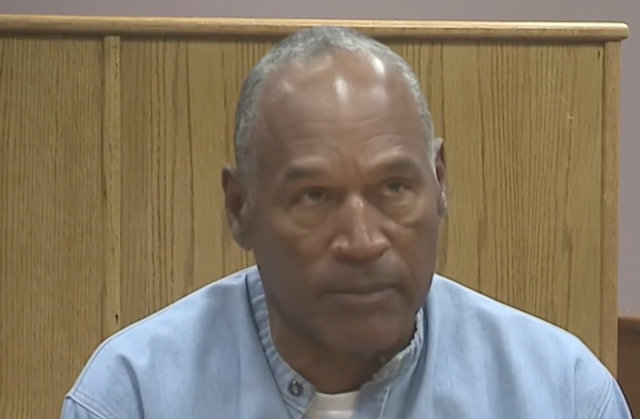 O.J. Simpson's lawyer Malcolm LaVergne claims that an October 2017 "secret" autograph signing was done by Simpson to pay off debts and legal fees, not to keep for himself.
A declaration filed in Superior Court of California states that Simpson held a private autograph signing in a Las Vegas hotel just a few days after his release from serving a nine year prison sentence. According to LaVergne, the signing was done to pay "a very small portion of the outstanding legal fees" to Ronald P. Slates, PC, a California law firm specializing in commercial debt collection.
Simpson, after being acquitted in 1995 for the murder of his ex-wife Nicole Brown Simpson and her friend Ron Goldman, was found responsible for their deaths in a 1996 civil suit. He was ordered to pay the families of Brown and Goldman $33.5 million. David Cook, the lawyer representing the Goldman family, told CNN that with interest the amount owed to both families is now "a touch under $70 million." At this time most of that money has not been paid.
Now that Simpson is out of prison, Cook has publicly expressed his eagerness to collect the money owed to the Goldman family, saying he is ready for "round two" if Simpson makes any money as a free man. As a retiree, any kind of pension or retirement income Simpson makes is not permitted to go to the Brown and Goldman families.
To LaVergne, Cook's enthusiasm to collect is pulling his client back into court needlessly, claiming in the declaration that that Cook used "unconfirmed stories" from TMZ and the New York Post about various kinds of commercial activity by Simpson that he deemed "false" simply to drag him into court.
[Image via NBC screengrab]
Have a tip we should know? [email protected]