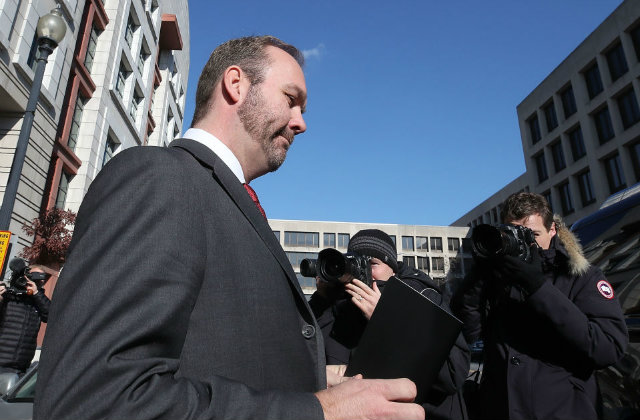 We now have a vague idea of why Paul Manafort associate Richard Gates' attorneys want off his case: irreconcilable differences. This doesn't do much to explain things, however, as available court filings don't describe what these irreconcilable differences are. Also, there's a gag order on the case, which is based on charges brought against Gates and Manafort by Special Counsel Robert Mueller's office.
"As a basis for counsel's motion to withdraw as counsel of record, undersigned counsel wish to inform the Court that irreconcilable differences have developed with the client which make our effective representation of the client impossible," attorneys wrote in a filing released Wednesday. "Counsel is constrained by attorney-client privilege as to the specifics involved but understand that the Court may wish to inquire more specifically of counsel for the basis of this motion. Counsel will make themselves available to the Court for such inquiry in whatever forum the Court deems appropriate."
Attorneys Shanlon Wu, Walter Mack, and AnneMarie McAvoy wanted to keep this filing sealed, when they asked to withdraw from the case on Friday. In their motion for leave to file that document under seal, they said the "exhibit involves highly sensitive matters concerning the Defendant and public disclosure of the information would potentially be prejudicial to the Defendant as well as embarrassing."
U.S. District Judge Amy Berman Jackson apparently didn't accept their rationale, and ordered the filing to be released anyway.
As of Wednesday evening, federal records still list Wu, Mack, and McAvoy as part of the legal team. The docket said Jackson took their request to withdraw under advisement.
The case against Gates spun out of Special Counsel Robert Mueller's probe into whether the Trump campaign colluded in Russia's 2016 election interference. The counts against him actually have nothing to do with those alleged ties. He and co-defendant Paul Manafort, the former Trump campaign manager, are accused of multiple crimes connected to their work with the Ukrainian government. These include money laundering, conspiracy to defraud the United States, and acting as unregistered agents of a foreign principal. Both men have pleaded not guilty.
[Image via Mark Wilson/Getty Images]
Have a tip we should know? [email protected]