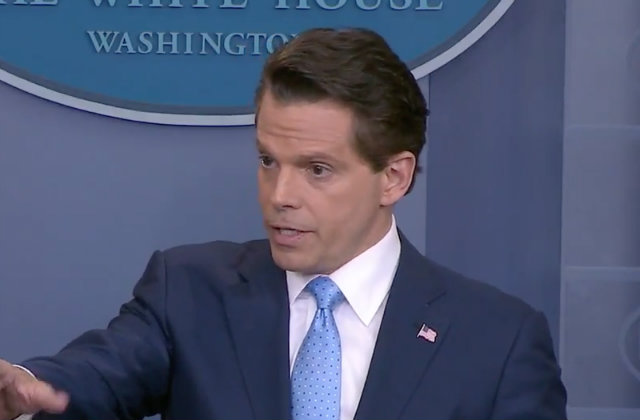 YUP: The new White House Communications Director Anthony Scaramucci has donated money to Democrats. He gave $2300 to presidential candidate Hillary Clinton in 2007, and later handed $5600 to Barack Obama during that same campaign season, according to Federal Election Commission records obtained by LawNewz.com.
Scaramucci started his new job Friday. It was a whole thing. Oft-cited is The New York Times report that Press Secretary Sean Spicer resigned over the new Communications Director. Also of note are Scaramucci's decidedly anti-Trump statements in the past–He is in the decidedly surreal position of working for a man he once called a "hack." His Twitter history seems to show unTrumpian views on climate change, gun control, the death penalty, abortion, and a wall along the Mexican border. Contrary to Vice President Mike Pence, he said in 2012 that he supported marriage equality for same-sex couples.
His FEC records are a smorgasbord of politicians across the aisle. He's personally given to to presidential candidate George W. Bush in 1999, Rep. Rick Lazlo (R-New York) in 2000, the senate run of Tom Daschle (D-South Dakota) in 2004. New York's Sen. Chuck Schumer has also been a recipient.
That said, Scaramucci gave nothing to Obama in 2012, and nothing to Clinton in the recent presidential election. Instead, he gave to presidential candidates Scott Walker and Jeb Bush in 2015, before giving a $267.29 contribution to Trump on March 31, 2016. This was followed by $100,000 to the Trump Victory joint fundraising committee on June 16 of that year, and $45,000 on October 5.
He has walked back his previous criticism of the POTUS.
"Mr. President, if you're listening: I personally apologize for the 50th time for saying that," he said Friday at the White House press briefing.
[Screengrab via White House]
Have a tip we should know? [email protected]