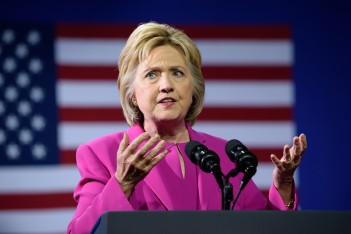 Newly released State Department records, including previously unreleased emails from Huma Abedin, appear to show Clinton Foundation donors calling in favors from then-Secretary of State Hillary Clinton.
The new documents released on Tuesday were obtained by the legal watchdog group Judicial Watch as part of their Freedom of Information Act lawsuit that seeks information about Abedin's unique employment arrangement with the State Department.  Judicial Watch claims some the documents paint a troubling portrait of then-Secretary of State Clinton possibly giving preferential treatment to top campaign bundlers and Clinton Foundation donors.
For example, an April 2009 email exchange with the subject line "[a] favor…" appears to show longtime Clinton associate Doug Band reaching out to Abedin and Cheryl Mills, writing, "Important to take care of [name redacted]."
Abedin responds almost immediately, writing, "We have all had him on our radar. Personnel has been sending him options."
In a separate exchange a few days later, Band emails Abedin and Mills again, this time urgently requesting help putting Gilbert Chagoury in contact with the State Department's "substance person" on Lebanon.  Abedin replies a few hours later, promising to speak with the "substance person" about the request.  Band then responds again, informing Abedin that she should contact the person now, writing, "This is very important."
It is unclear from the emails exactly why Chagoury needed to speak with anyone at the State Department. Although, according to records obtained by Judicial Watch, Chagoury is reportedly a very wealthy Nigerian-Lebanese businessman and friend of former President Bill Clinton.  He is a mega-donor who, according to the Wall Street Journal, pledged between $1 million and $5 million to the Clinton Foundation. ABC News reported that he made another $1 billion pledge to the Clinton Global Initiative.
According to a 2010 PBS Frontline/World investigation, Chagoury also has somewhat of a checkered past.  He was previously convicted in a money laundering scheme that allegedly helped a former Nigerian dictator stash stolen money in various bank accounts in Switzerland, Liechtenstein and elsewhere.  However, his conviction was expunged in 2000 after he agreed to a plea deal that required him to return approximately $66 million to the Nigerian government.
"Clinton's top aides' favors for and interactions with the Clinton Foundation seem in violation of the ethics agreements that Hillary Clinton agreed to in order to be appointed and confirmed as Secretary of State," Judicial Watch wrote in a statement accompanying the release of the documents.
The statement goes on to cite a letter from Clinton to State Department Designated Agency Ethics Official James H. Thessin from January 2009.  The letter states, in part:
"For the duration of my appointment as Secretary if I am confirmed, I will not participate personally and substantially in any particular matter involving specific parties in which The William J. Clinton Foundation (or the Clinton Global Initiative) is a party or represents a party…."
In addition to contact with individuals connected to the Clinton Foundation, the newly released emails also show Clinton was contacted by a fundraiser/bundler connected with her 2008 presidential campaign. In April 2009, fundraiser Lana Moresky contacted Clinton directly through email to request help getting someone a position at the State Department.
Moresky wrote that she understood the hiring process was moving slowly, but she "was hoping you (Clinton) might intervene to make sure [name redacted] was taken seriously and considered for a proper responsible position."
Clinton forwarded the email request to Abedin, telling her to please help the unidentified individual.  Clinton also appeared to request that Abedin keep her in the loop, writing, "Let me know."
"No wonder Hillary Clinton and Huma Abedin hid emails from the American people, the courts and Congress," Judicial Watch President Tom Fitton said in a statement. "They show the Clinton Foundation, Clinton donors, and operatives worked with Hillary Clinton in potential violation of the law."
Editors note: This article was updated to correct the misspelling of Lana Moresky's name.  
[Image via Shutterstock]
Have a tip we should know? [email protected]