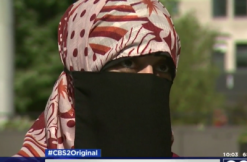 A Muslim woman has sued six police officers and the city of Chicago, Illinois over her arrest on July 4, 2015. Itemid "Angel" Al Matar claims the cops roughhoused her at a train station as well as taking off her hijab. Now she's being backed by the Chicago chapter of the Council on American-Islamic Relations, who announced the federal complaint filed Thursday.
In a statement, CAIR-Chicago said police used excessive force, falsely arrested Al Matar, violated her freedom of religious expression, and maliciously persecuted her:
The incident took place during Ramadan, in which Angel was walking up the stairs at the CTA State/Lake red line trying to catch the train to go home to break her fast by sunset. Unprovoked, unannounced, and without cause, several officers raced behind her, grabbed her from the stairs and threw her to the stair landing. They violently ripped off her religious head garment, verbally taunted her, and publicly stripped her to her underwear while she remained handcuffed on the ground.
Surveillance footage of the incident was put on YouTube, Al Matar is out-of-frame for much of it.
Al Matar was charged with resisting arrest and reckless conduct. She was found not guilty in June.
We've reached out to the Chicago mayor's office, and will update if we get a response.
–
Follow Alberto Luperon on Twitter (@Alberto Luperon)
Have a tip we should know? [email protected]