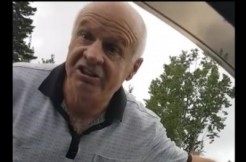 Who came up with the stereotype that Canadians are nice? We're asking because of this story.
Damian Dallyn works for this landscaping company in Alberta, and they got into a money dispute with a certain man, he told CTV. Dallyn went to the man's property on Saturday in attempt to sort things out. They argued, and Dallyn returned to his car. Too bad for him because this article isn't over.
One of the man's relatives got involved. A third person, 67-year-old Dennis James Tissington, stormed over with a baton in hand, and tried to kick Dallyn out.
Here's cell phone footage (warning for language):
It started off with Tissington walking to the car like he was in a Walking Tall-remake, then tapping the driver's window with his baton. He threatened Dallyn, telling him to leave.
Tissington: Aren't you in a lot of trouble?

Dallyn: No.

Tissington: You're gonna be.

Dallyn: Why?

Tissington: You're gonna be in a f—ing hospital if you don't get out of here.

Dallyn: No, you can't bring a weapon out on me.

Tissington [smiling]: Yes I can because I have one.
Tissington smashed the driver's side window after Dallyn didn't leave, and actually provided his name when asked. Then he smashed another window.
Dallyn: You're going to jail, bud.

Tissington: No, I'm not.

Dallyn: Yeah, you are.

Tissington: I'm too f—ing old for that.
Turns out he wasn't too old for jail. Royal Canadian Mounted Police told CTV they arrested him and charged him with mischief. More charges are pending.
Tissington is scheduled for an October 3 hearing. CTV couldn't reach him for comment, but did get the relative, who threatened to sue Dallyn for an unspecified reason.
–
Follow Alberto Luperon on Twitter (@Alberto Luperon)
Have a tip we should know? [email protected]