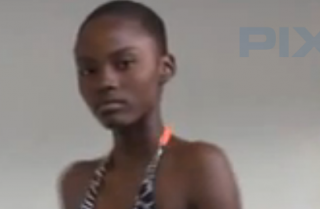 A federal court in New York will determine whether to move forward with a lawsuit brought against Donald Trump's modeling agency, Reuters reports. Jamaican model Alexia Palmer initiated the suit against Trump Model Management LLC in October 2014, claiming they lied on her work-visa application, and did not pay her the salary they promised. Trump himself is not named in the suit, but he does own the company.
The complaint alleges that the agency violated U.S. immigration and labor laws, and made "fraudulent misrepresentations." Palmer, who was 17 when she arrived in New York in 2011, claims the agency said on the application that she would receive a $75,000 annual salary while in the United States, but she ended up getting only $3,880.75 over the course of three years. She is asking for $225,000 in back pay. Palmer is also seeking class action status to represent other models brought to the U.S. by the agency who believe they were underpaid.
Lawrence Rosen, an attorney for Trump Model Management, said that the $75,000 listed on the visa application was a guess, not a guarantee, and that Palmer's agreement said that she would reimburse the agency for "any and all costs and expenses." Court documents say that her agreement provided for the agency to get 20 percent of Palmer's earnings, but that they allegedly took 80 percent, claiming the money went towards walking lessons, cell phone costs, limo rides, administrative fees, and even postage.
The agency filed a motion to dismiss the suit, and the court is expected to rule on it by the end of March.
Trump's lawyers said the claim is "frivolous," and that Palmer was paid appropriately for what only ended up being 10 days of work. Hope Hicks, Trump's campaign spokesperson, described Palmer's situation as "standard practice in the modeling industry."
[h/t Reuters, screengrab via PIX11]
Have a tip we should know? [email protected]