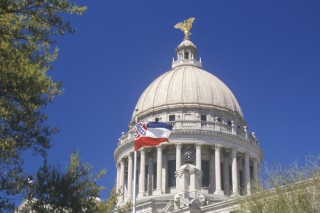 The Mississippi Senate approved a bill Wednesday evening that would allow religious organizations and individuals to discriminate against people according to their "sincerely held religious belief or moral conviction" that 1) marriage is between a man and a woman, 2) sex should only take place in such a marriage, and 3) biological sex is "objectively determined by anatomy and genetics at time of birth." The bill, known as the "Religious Liberty Accommodations Act," already passed the Mississippi House 80-39 before the 31-17 Senate vote. It now returns to the House before going to Governor Phil Bryant to be signed into law.
The far-reaching bill would allow private businesses to discriminate based on these beliefs as well. It specifically mentions people who provide wedding-related services such as flowers, DJs, photography, and cakes, saying they can refuse service for gay weddings without fearing government retribution.
It also would allow state employees such as clerks to refuse service such as "authorizing or licensing lawful marriages" that go against their beliefs, as long as they "provide prior written notice to the State Registrar of Vital Records." The bill does not say anything about state agencies making sure that there is at least one person on staff at a given time who has not refused to provide these services.
Bryant indicated to WLBT that he doesn't see anything wrong with the bill. "I don't think it's discriminatory. I think it gives some people, as I appreciate it, the right to be able to say that's against my religious beliefs and I don't need to carry out that particular task," he said.
The ACLU of Mississippi issued a statement saying, "Freedom of religion is one of our most fundamental rights as Americans, but that freedom does not give any of us the right to harm or mistreat others." They believe that lawmakers are going out of their way to target the LGBT community. "The Mississippi State Legislature should look for ways to bring Mississippians together, not divide us along religious lines," the statement said.
Chad Griffin, president of the Human Rights Campaign, said that the response to the bill could be costly, referring to companies who threatened to pull their businesses from Georgia before that state's governor rejected a similar bill.
"Governor Byrant should be paying close attention to the backlash against discrimination in Georgia, where Gov. Nathan Deal vetoed a terrible anti-LGBT bill," Griffin said. "Mississippi's economy and its reputation hang in the balance."
[h/t NBC News, image via Shutterstock]
Have a tip we should know? [email protected]