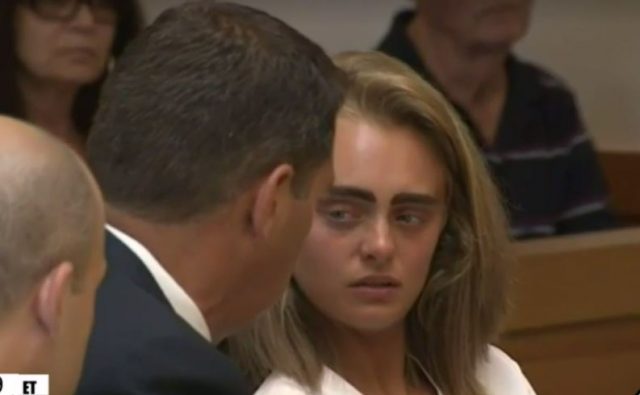 Massachusetts woman Michelle Carter may have been convicted in the death of her late boyfriend Conrad Roy, but it's not enough for the victim's mother. It was revealed on Friday that a lawsuit was filed on July 6 in Norfolk Superior Court by Lynn Roy.
Conrad's mother is seeking $4,224,000 based on anticipated lost wages. It's not about making money, but making a memorial for Conrad, Ms. Roy's attorney Eric Goldman told Massachusetts Live.
"The family would obviously rather have their son back," he said. "What the Roys are looking to do is somehow memorialize Conrad."
It's unclear which lawyer is representing Carter in this lawsuit. LawNewz.com has reached out to her criminal attorney Joseph Cataldo for comment.
She was sentenced Thursday to 2 1/2 years in prison, but much of it is suspended until August 1, 2022. She will also get five years of probation. Despite all this, she will remain free pending the result of her appeal in state court.
During the bench trial, prosecutors convinced a judge that she committed involuntary manslaughter by coaching 18-year-old boyfriend Conrad Roy via text message to commit suicide in 2014 by carbon monoxide poisoning.
The defense argued that she suffered from suicidal ideation too, and thought she was helping Roy by encouraging him to take his own life.
Groups such as the ACLU and the Massachusetts Bar Association have taken opposite sides on the case. There has even been been some dissent among the LawNewz staff.
"The charge of involuntary manslaughter was a desperate attempt to punish behavior that was terrible, but not at all within the description of the crime for which she was convicted," Senior Editor Ronn Blitzer argued Thursday.
LawNewz Network Host Aaron Keller reached a different conclusion, saying that involuntary manslaughter was the right verdict.
Interestingly enough, Blitzer suggested Carter will likely be held liable in a wrongful death lawsuit because she "absolutely contributed" to Roy's suicide by encouraging him.
[Screengrab via LawNewz Network]
Have a tip we should know? [email protected]