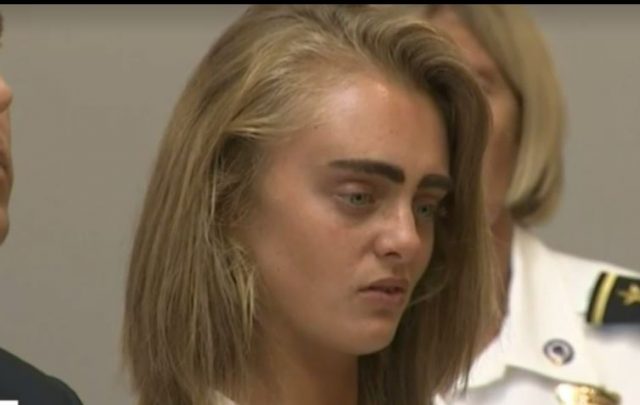 Michelle Carter, the Massachusetts woman convicted in June of involuntary manslaughter for telling her boyfriend Conrad Roy III to continue on with a suicide attempt when they were both teen high school students. Carter was 17 at the time. On Thursday, the judge sentenced her to two and a half years in a house of corrections. The judge said 15 months are to be considered a committed sentence, with the rest to be  suspended until August 1, 2022, as well as probation, which commences immediately.
Carter's defense attorney plans to appeal the conviction, and the sentence will be stayed for the duration of those proceedings.
Roy had often discussed a desire to kill himself in conversations with Carter, and many text messages presented at trial showed that she encouraged him to go through with it. Finally, in the midst of a suicide attempt involving carbon monoxide poisoning, Roy stopped, telling Carter he couldn't go through with it, only for Carter to tell him to get back in the car. He followed her instruction and killed himself.
Members of Roy's family spoke at the sentencing hearing, delivering emotional victim impact statements. First was Camden Roy, Conrad's sister, who read a tearful statement about missing the brother she had been with since she was born. Next was Conrad's father, Conrad Roy Jr., who read his own statement. "My son was my best friend," he said, describing the pain the young man's death has caused him and the rest of the Roy family.
Lastly, Conrad's mother, Lynn Roy, issued a statement before the court that was read by the prosecution. She said she could not understand how someone like Carter, who claimed to love Conrad, could do this to the Roy family. "In honor of Conrad, I need to handle this in the best, graceful way that I can," she said. "Every day I will continue to honor him."
The prosecution asked for a sentence of between seven and twelve years in prison, saying that Carter did not express any remorse after Roy's death, saying it was "quite the opposite."
The defense did not submit any new evidence to the court, but a probation report was submitted to the court beforehand. The defense did request a sentence of five years of supervised probation, including mental health counseling and any treatment deemed necessary by a counselor.
Carter's attorney emphasized that Carter was 17 at the time of the crime, and therefore was not as culpable as an adult. She was also going through her own psychological problems at the time, and that at one point during her text conversations with Roy, she herself was getting in-patient treatment for mental health issues. She is still receiving treatment and does not pose any further danger, her lawyer said. He insisted that Carter "completely regrets … and does take responsibility" for what happened. "She very much regrets this."
Have a tip we should know? [email protected]