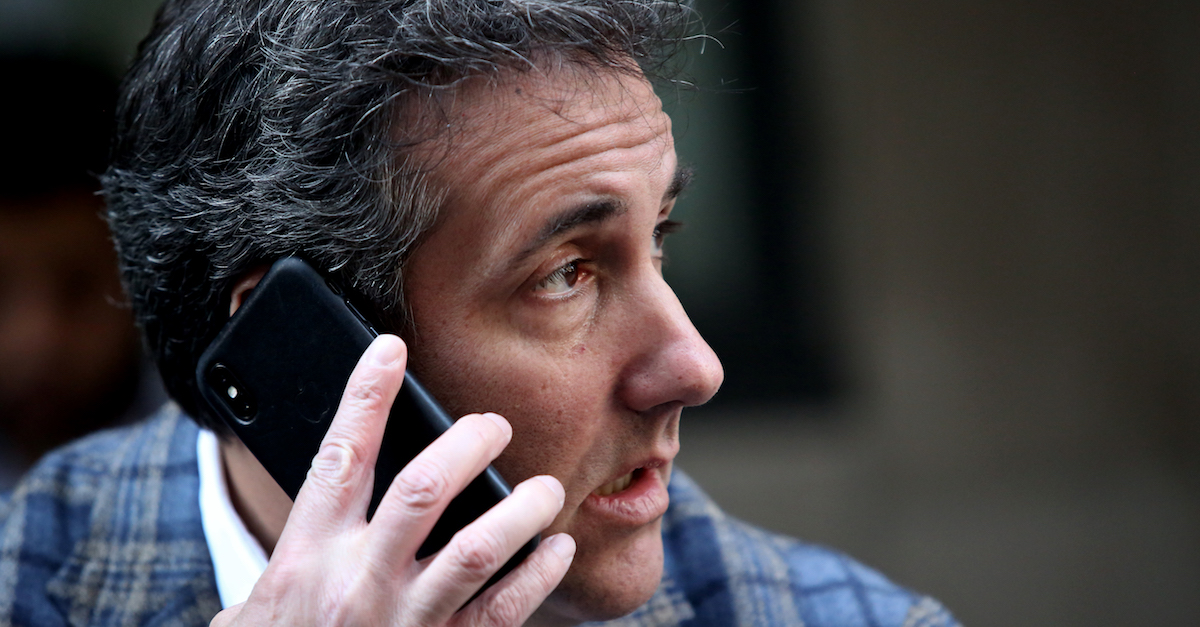 President Donald Trump's one-time friend, attorney and fixer Michael Cohen has decided to postpone his much-anticipated testimony before the U.S. House of Representatives. A statement released by Cohen's attorney Lanny Davis cited "ongoing threats to [Cohen's] family" by both President Trump and his lead attorney Rudy Giuliani.
"Mr. Cohen volunteered to testify before the House Oversight Committee on February 7th," the statement begins. "Due to ongoing threats against his family from President Trump and Mr. Giuliani, as recently as this weekend, as well as Mr. Cohen's continued cooperation with ongoing investigations, by advice of counsel, Mr. Cohen's appearance will be postponed to a later date."
Davis appears to be referring to recent statement from President Trump regarding Cohen's father-in-law.
"[Cohen] should give information maybe on his father-in-law, because that's the one that people want to look at," Trump said during a January 12 interview on Fox News. "Because where does that money–that's the money in the family. And I guess he didn't want to talk about his father-in-law–he's trying to get his sentence reduced. So it's pretty sad. It's weak and it's very sad to watch a thing like that."
Democrats quickly pounced on the remarks and compared them to witness tampering.
House Oversight Committee Chair Elijah Cummings (D-Md.) issued a joint-statement with other committee members castigating the 45th president's remarks:
The integrity of our process to serve as an independent check on the Executive Branch must be respected by everyone, including the President. Our nation's laws prohibit efforts to discourage, intimidate, or otherwise pressure a witness not to provide testimony to Congress. The President should make no statement or take any action to obstruct Congress' independent oversight and investigative efforts, including by seeking to discourage any witness from testifying in response to a duly authorized request from Congress."
That was the case again on Wednesday.
Trump had previously made reference to Cohen's father-in-law in December of last year.
As Law&Crime reported at the time, Trump offered "zero evidence" to support his theory that Cohen accepted a plea deal in order to keep his wife and his "rich" father-in-law out of legal jeopardy.
Giuliani also recently leaned into Trump's theory about Cohen's family. On Sunday, the president's lead attorney made a scurrilous statement to CNN's Jake Tapper.
"His father-in-law was—he may have ties to something called organized crime," Giuliani said.
As Law&Crime's Ronn Blitzer and George Washington University Law Professor Jonathan Turley noted in a recent analysis, Giuliani's scandalous statement has the potential to rise to actionable defamation–though it's unlikely that Cohen's father is going to file such a lawsuit.
Cohen insists that he still wants to publicly testify–just not anytime soon.
"Mr. Cohen wishes to thank Chairman Cummings for allowing him to appear before the House Oversight Committee and looks forward to testifying at the appropriate time," the statement ends. "This is a time where Mr. Cohen had to put his family and their safety first."
[image via Yana Paskova/Getty Images]
Have a tip we should know? [email protected]