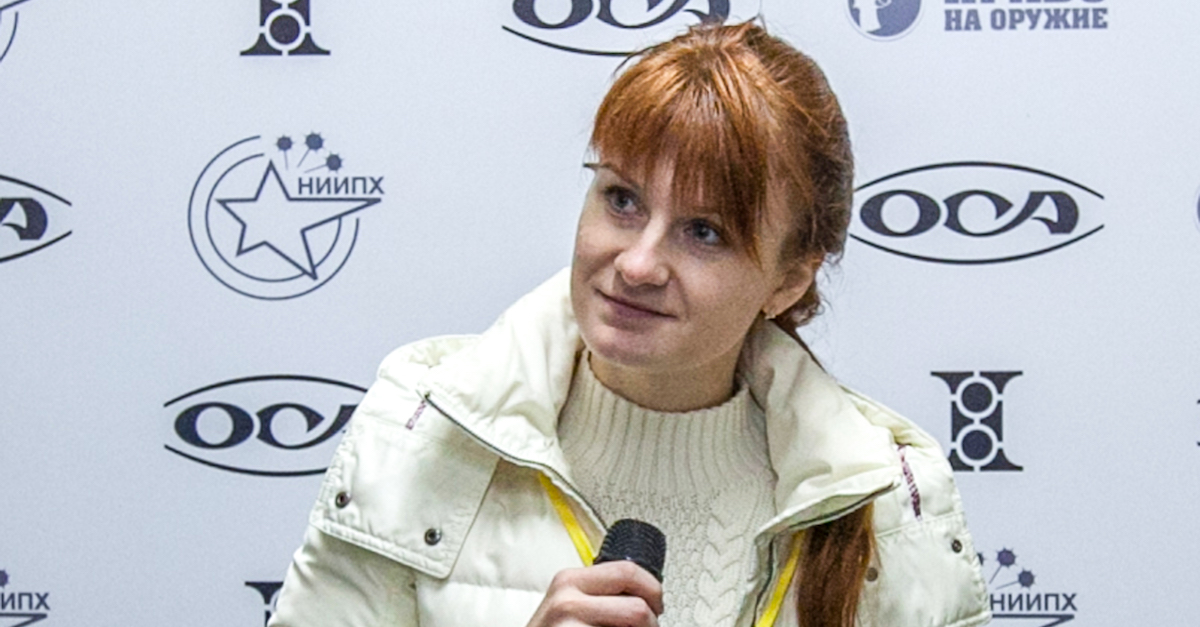 Accused Russian spy Maria Butina is currently awaiting sentencing after pleading guilty to conspiracy against the United States in December of last year. Efforts to end the legal saga have stalled as the government keeps requesting delays–without telling the defense why–which have likely kept Butina in detention longer than the sum total of her eventual sentence is even likely to be. All the while, some of Butina's legal bills have been paid by a man who runs a non-governmental organization (NGO) with alleged ties to the Kremlin.
According to The Atlantic's Natasha Bertrand, 30-year-old Russian lobbyist Alexander Ionov has been fundraising on Butina's behalf by way of a fundraising website hawking "The Maria Butina Legal Expense Fund"–based in Virginia–since sometime in 2018.
The website offers a sympathetic and dramatic retelling of Butina's fall from grace as a Republican Party and National Rifle Association (NRA) influencer.
Ionov's pro-Butina pitch reads:
From a town in Siberia, where her mom worked as an engineer and her dad as a furniture maker, Maria came to the United States for a master's degree from American University in Washington, DC. Charmed by American culture yet proud of her Russian heritage, she championed peace and positive relations between her homeland and the United States. She studied international relations to make a difference, but after graduating with honors, she was arrested by the U.S. government for crimes she did not commit. Now she needs your help.
And, according to a recent interview with Bertrand, Ionov has raised around $30,000 for Butina's defense so far. Although she was a Russian national who pleaded guilty to a crime against the U.S., it's worth remembering that Butina was charged by the U.S. Attorney's Office in D.C., not special counsel Robert Mueller. Butina's Republican operative and NRA-connected boyfriend Paul Erickson has also been charged.
The Butina defense fund isn't Ionov's first project within the United States. Since 2015, at least, his Anti-Globalization Movement NGO has offered organizing and financial support to various separatist movements–including the Texas Nationalist Movement.
Support for secession in Texas is decidedly a minority opinion–but with between one-fifth and one quarter of Texans voicing their support for the Lone Star State's renewed independence over time, the idea should hardly be considered fringe.
Still, other groups supported by Ionov's separatist-backing NGO are treading a bit further along the outskirts. One such political cause supported by the Anti-Globalization Movement is the Uhuru Movement, a pan-African and socialist-oriented political tendency which describes itself as being "committed to the total liberation of Africa and African People everywhere," but which is occasionally criticized as a form of black nationalism.
Ionov's NGO has also lent it's support to relatively unpopular separatist tendencies in Hawaii and California.
Per Bertrand's report:
In December 2016, the California separatist group Yes California set up a makeshift embassy in Moscow with the organization's help.
But Ionov's group has also worked with increasingly popular–and decidedly not fringe–separatist movements like the overwhelmingly supported Catalan Solidarity for Independence coalition which recently scored a 92 percent victory in a referendum on whether Catalonia should secede from Spain.
Additionally, Ionov has offered his group's services to the left-wing Sinn Fein party in Northern Ireland whose raison d'être is reunification of the island of Erin–a proposition that's looking increasingly likely due to the United Kingdom's slow-motion Brexit controversy.
In separate interviews with Bertrand, Ionov and Butina's defense attorney Robert Driscoll confirmed that the two men were in constant contact. Asked whether he was worried about the Anti-Globalization Movement's pro-separatist work, Driscoll said he was just happy that someone was paying the bills.
[image via STR/AFP/Getty Images]
Have a tip we should know? [email protected]