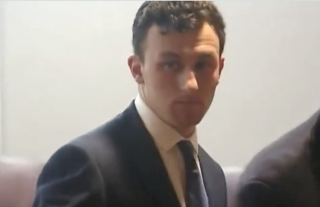 An attorney for Johnny Manziel, the embattled former Cleveland Browns Quarterback, has resigned after he sent a controversial text to a reporter.  Manziel is accused of threatening and hitting his girlfriend, Colleen Crowley, and is facing a misdemeanor assault charge that could carry up to a year in jail and a $4,000 fine.
The attorney, Bob Hinton, expressed his doubts that Manziel could stay clean long enough if that were a condition of his sentence. Hinton had not been heavily involved in the case and had stayed mostly on the outside.
"Heaven help us if one of the conditions is to pee in a bottle," Hinton texted to an Associated Press reporter according to ESPN.
A Manziel spokeswoman, Denise Michaels, tweeted the information on Monday that Hinton was resigning from the case.
Johnny Manziel's lead attorney Jim Darnell today confirmed to me withdrawal of associate counsel Bob Hinton from Manziel case.

— Denise C Michaels (@denisecmichaels) June 27, 2016
In addition, she debunked claims that Manziel was seeking a plea deal.
"Lead counsel Jim Darnell has told me from the beginning that he would never have Johnny plead guilty in this and that position has not changed," Michaels added accordion to ESPN>
Manziel, a former Heisman Trophy winner and Texas A&M star, has a history of reported drug problems.  While his lawyers are trying to keep him out of jail, his father, Paul Manziel, is taking a different tact.
"He's a druggie. It's not a secret that he's a druggie. I don't know what to say other than my son is a druggie and he needs help. He just hasn't seeked it yet. Hopefully he doesn't die before he comes to his senses. That's about all you can say. I don't know what else to say," the older Manziel said according to ESPN.
"I hate to say it, but I hope he goes to jail. I mean, that would be the best place for him. So we'll see," Paul Manziel said.
Have a tip we should know? [email protected]