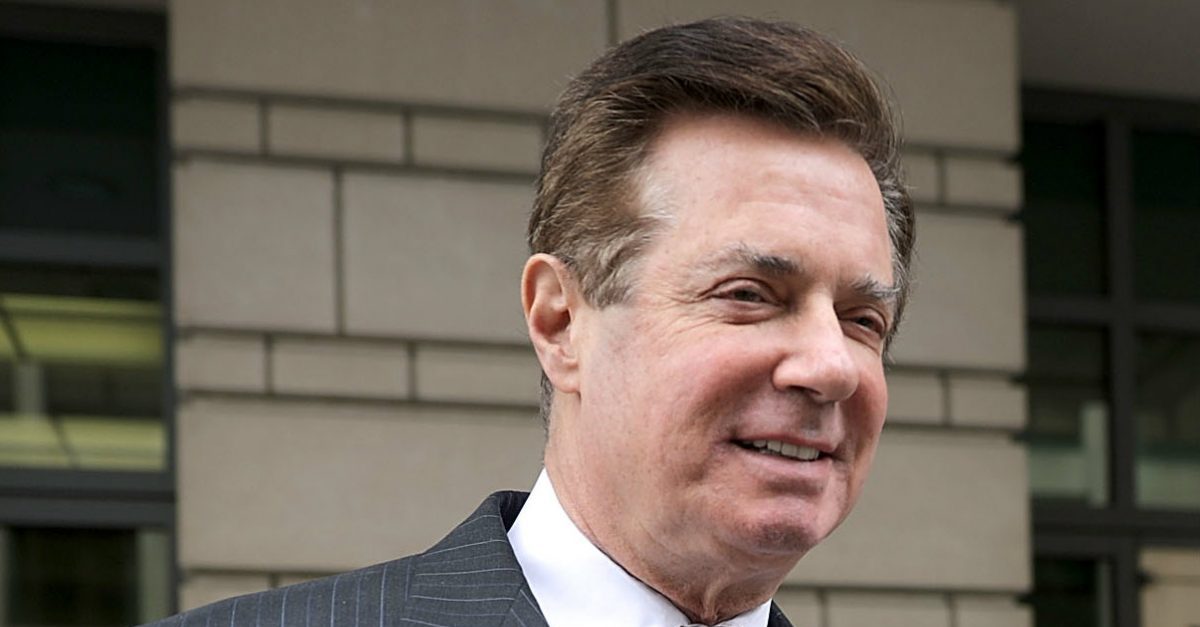 Former Trump campaign manager Paul Manafort continues to fight against charges brought against him in two federal court cases. His latest measure, in the Eastern District of Virginia where he faces tax and bank fraud charges, is a claim that classified or confidential information about him was improperly leaked to the press, prejudicing his case. Specifically, Manafort asserts that the lead prosecutor in Special Counsel Robert Mueller's investigation had a questionable meeting with Associated Press reporters.
In a Monday night court filing, Manafort's defense cites reports from freelance journalist and Hannity regular Sara Carter that claim that prosecutor Andrew Weissmann held a meeting with AP reporters where he discussed a probe of Manafort's finances. This was allegedly the day before the AP published a report about Manafort allegedly laundering money. One of Carter's reports, which was based on anonymous sources, claimed that FBI officials weren't too pleased with Weissmann's meeting, and filed a complaint about it with the DOJ.
Manafort wants the court to hold a hearing on possible unauthorized government leaks in his case, including possible leaks of private grand jury information. According a Carter report, the same sources who discussed the alleged meeting said that Weissmann was not part of the Manafort investigation at the time and was not privy to information from the grand jury at the time.
Any leaks of grand jury or otherwise confidential information, Manafort argues, have improperly prejudiced his case. His court filing notes the extensive media reports about him that were allegedly the result of unlawful leaks, which could impact the jury at his pending trial, currently scheduled for July 10. His other case, based on money laundering allegations, is set for trial in Washington, D.C. on September 17.
In addition to the AP meeting, Manafort's defense cites alleged leaks to CNN and the New York Times, claiming that there is "strong evidence that the highest-level FBI and intelligence officials authorized leaks to the press and, in fact, leaked themselves." The defense names former FBI Director James Comey, former Deputy Director Andrew McCabe, and former Director of National Intelligence James Clapper.
Manafort's defense claims that "mass media coverage of these leaks in print, on television, radio and the internet"  have done "irreparable harm" to Manafort, and that there is no way that any jury instructions or change in venue could fix the damage that has been done.
Prosecutors, however, told Politico that the jury selection process would take care of weeding out any potential jurors who have been impacted by media reports.
[Image via Chip Somodevilla/Getty Images]
Have a tip we should know? [email protected]