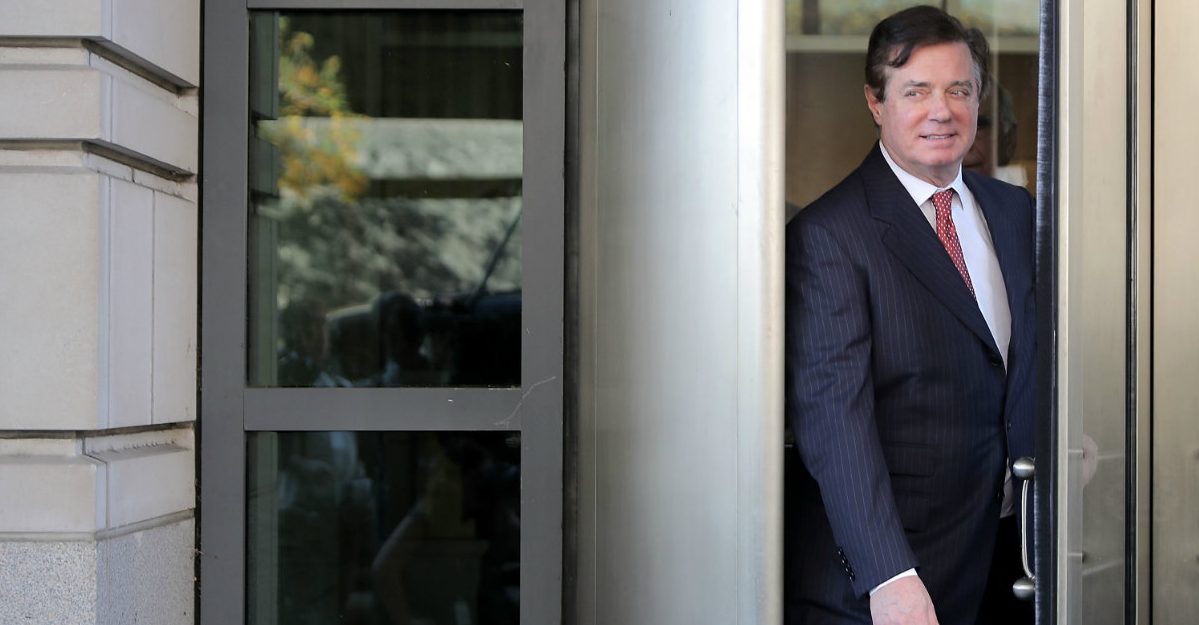 Special counsel Robert Mueller has handed off another investigation to a U.S. Attorney's Office (USAO) that appears to be a lock for a guilty plea.
Bloomberg, fresh off a day of presidential tidbits, is first to report that Sam Patten, a Paul Manafort lobbying associate with ties to suspected Russian intelligence agent Konstantin Kilimnik dating back two decades, has been hit with a Foreign Agents Registration Act (FARA) violation.
As CNN producer David Gelles noted, Patten was charged for acting as an unregistered foreign agent for Russia and Ukraine between 2014 and 2017. Furthermore, special counsel Mueller, just like he did by handing the Michael Cohen investigation to the Southern District of New York, referred this investigation to the D.C. U.S. Attorney's Office and the Department of Justice National Security Division.
The USAO filing went into further detail as to the nature of Patten's alleged offenses:
From in or around 2014 until in or around 2018, both dates being approximate and inclusive, within the District of Columbia and elsewhere, the defendant W. SAMUEL PATTEN knowingly and willfully acted as an agent of a foreign principal, to wit, the Opposition Bloc (a Ukrainian political parfy) and its members, without registering with the Attorney General, whose office in the Department of Justice is located in the District of Columbia, as required by law.

Beginning in or around 2014 to the present, PATTEN worked with a Russian national (Foreigner A) on lobbying and political consulting services. The two formed a company (Company A) in the United States, and were 50-50 partners.
If the name Konstantin Kilimnik sounds familiar, that's probably because it was mentioned almost in the same breath as the news the Manafort was hit with witness tampering charges. Back in June, Mueller issued a superseding indictment, adding obstruction of justice and conspiracy charges to a litany of lobbying and fraud offenses allegedly committed by Manafort. It was then that Kilimnik was slapped for lobbying violations.
It is believed that the "Foreigner A" mentioned above is Kilimnik.
Patten is expected to appear in Judge Amy Berman Jackson's D.C. courtroom at 11 a.m. Friday. Jackson is the judge presiding over Manafort's second trial, which is expected to begin on Sept. 24.
The maximum sentence for Patten is five years in prison.
Stories about Patten started to pick up in April. Consider Natasha Bertrand's at the Atlantic for more on Patten's connection to Manafort, Rick Gates and Kilimnik:
Patten said that his relationship with Kilimnik—a former officer in Russia's Main Intelligence Directorate (GRU) who worked closely with Trump's campaign chairman Paul Manafort and his deputy, Rick Gates, for over a decade—has "been thoroughly explored by relevant government entities."

Patten's long friendship with Kilimnik—which stems from their time working together at the International Republican Institute in Moscow between 2001 and 2003—would likely be enough to draw scrutiny from Mueller, who appears to have homed in on Kilimnik as a potentially significant link between the Trump campaign and Russia. The special counsel's office alleged in a court filing late last month that Kilimnik still had ties to Russian intelligence services in 2016, and that his conversations with Gates in September of that year are relevant to the investigation.
Patten's ties to Cambridge Analytica have also been explored.
[Image via Chip Somodevilla/Getty Images]
Have a tip we should know? [email protected]