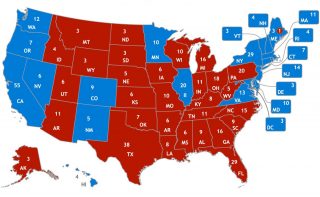 California and New York should rush to the Supreme Court to strike down the Electoral College voting rules as unconstitutional, a leading scholar argues. By diluting the one-person, one-vote rule, they violate the Equal Protection clause, Harvard Law Professor Lawrence Lessig urged in a blog post.
"Why are these big states standing by quietly as their voters are essentially silenced by the unconstitutional inequality?," Lessig wrote in his blog on Medium on Sunday.
The self-described political "activist" and copyright law professor said he wants to serve a little back-at-you justice to the Republican Party by arguing that the 2000 Supreme Court decision Bush v. Gore supports his argument that the Electoral College voting rules set up by the states are unconstitutional.
"How much fun will it be to watch us libs loving Bush v. Gore?," Lessig wrote.
Bush v. Gore was widely criticized by many legal scholars for using an equal protection argument to stop a vote recount in Florida and hand the White House to Republican George W. Bush even though he lost the national popular vote.
While many Democrats may balk at asking the Supreme Court to intervene once again in a Presidential election, Lessig argued, "What's good for the elephant is good for the donkey."
The Electoral College system has come under attack this year because the state voting rules for electors are expected to award the presidency to Republican Donald Trump on Dec. 19 even though Democratic candidate Hillary Clinton won the national popular vote by nearly 2.7 million votes as of last count.
Lessig said that he and other lawyers — Christopher Duquettte, David Schultz  and Jerry L. Sims — have been making similar arguments that the Electoral College should be challenged on the grounds that all but a few state voting rules deprive voters in populous states like California and New York of the equal value of their votes, violating the Fourteenth Amendment's equal protection guarantee.
"There's so much at stake here," Lessig wrote.  His post urged California Attorney General Kamala Harris and New York Attorney General Eric Schneiderman — both Democrats — to explore filing a constitutional challenge to the state electoral voting rules in other states. "So how can we go quietly here?"
Harris was elected on Nov. 8 to replace U.S. Sen. Barbara Boxer (D-Calif.) but Harris has not yet left her job as California attorney general.
Some legal experts have argued that the Electoral College cannot be challenged as violating the Constitution because it was created by the Framers in the Constitution.
But Lessig points out that the "system for allocating electoral votes is not mandated by the Constitution. It is created by the states. And so that raises what should be an obvious and much more fiercely contested question—why isn't the [winner-take-all rule] being challenged by the Democrats in this election?"
With the exception of Maine and Nebraska, all state legislatures require their electors to vote for the candidate who wins the majority of votes in each state under a winner-take-all rule.  But because rural, lightly populated states outnumber the heavily populated states, these winner-take-all rules deprive  voters in urbanized, populous states of equal power to elect the President, Lessig argues.
Lessig says that the combination of the winner-take-all state rules and the disproportionately large number of electors for rural sates compared to electors for populous states yields an imbalance. In the 2016 presidential election, "California had a population of more than 66 times greater than Wyoming while having only 18 times as many presidential Electors," Lessig wrote.
Ignoring the national popular vote violates the equal protection rule requiring the states to provide all voters to have equally powerful votes.
It would be difficult, Lessig argues, for the Supreme Court to ignore its own words in Bush v. Gore, which reaffirmed that "the right to vote as … fundamental; and one source of its fundamental nature lies in the equal weight accorded to each vote and the equal dignity owed to each voter."
The Supreme Court went on to reaffirm the longstanding rule that "the State may not, by later arbitrary and disparate treatment, value one person's vote over that of another."
Lessig declared his candidacy for President in 2016 but withdrew his name before the primaries.
[Image via Shutterstock]
Have a tip we should know? [email protected]