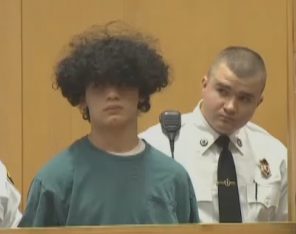 A 15-year-old high school student in Massachusetts has been charged  with beheading a fellow classmate.
According to local news reports, Matthew Borges made his first court appearance on Monday where prosecutors formally accused him in connection with the grisly crime.
WATCH:
Authorities found the depacitated body of the victim, identified as 16-year-old Lee Paulino, last Thursday along a riverbank.  Paulino is reportedly a classmate of the accused killer at Lawrence High School in Lawrence, Massachusetts.
To give one an understanding of the serious nature of these allegations, Borges' attorney did not even attempt to persuade the court to set bail for his client.
"Your Honor, [the defendant's attorney] and I have spoken, and we've agreed that the defendant be held without bail at this point,"  the prosecutor told the judge during the bail hearing.
After the court appearance, Police Chief James Fitzpatrick responded to criticism from some members of the victim's family that his department did not do enough to search for Paulino when he was first reported missing on November 18.
Fitzpatrick rejected the criticism and said his department did everything they could to find Paulino.  He also stressed how officers made an arrest of the accused killer within days of finding the body.
"That's why you saw a speedy arrest made, because we were looking at everything," Fitzpatrick said.
[image via screengrab]
Have a tip we should know? [email protected]