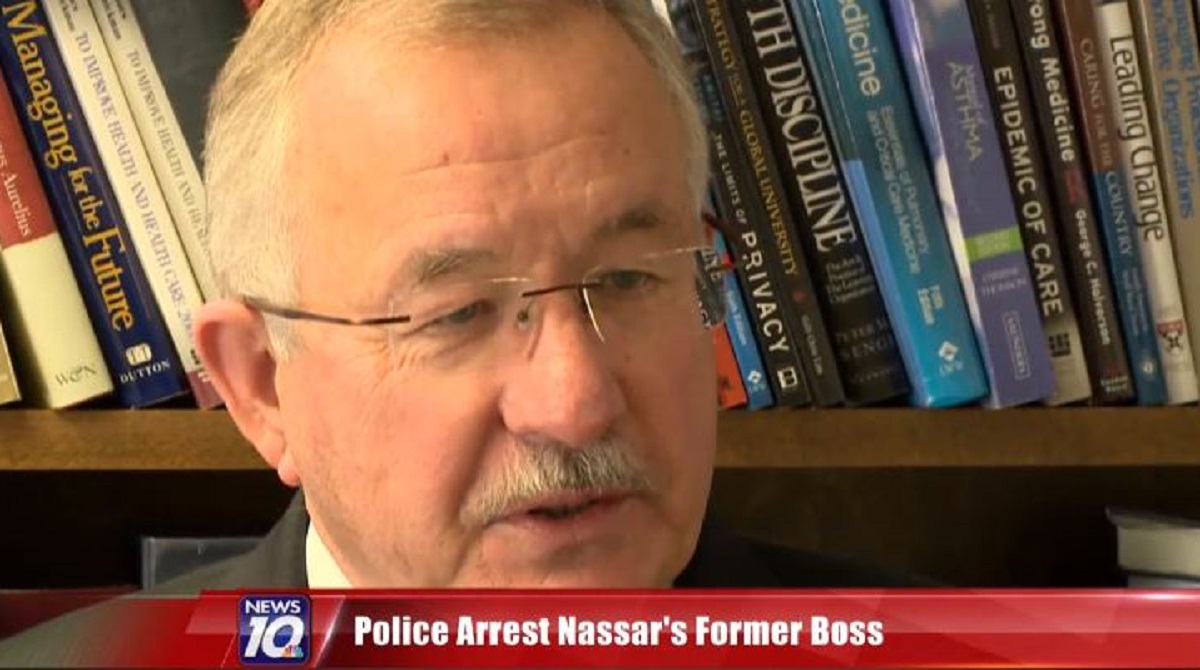 The former dean of Michigan State University's College of Osteopathic Medicine, Dr. William Strampel, was arrested Monday on multiple charges. Strampel was the boss of Larry Nassar, who was convicted of sexually abusing more than a hundred women and girls while he worked at MSU and as the team doctor for USA Gymnastics.
It's unclear what the charges against Strampel are, but sources told the Detroit Free Press that he is facing at least one felony. The Michigan Attorney General's Office has declined to comment so far, but they did announce that they will hold a press conference Tuesday afternoon. The AG's office requested Strampel's calendar, computer, and cell phone in January, as they investigated how MSU responded to complaints against Nassar.
Strampel took medical leave from MSU in December, but the university's interim president, John Engler, has been working since February to fire him and revoke his tenure because he allegedly did not take proper action to enforce policies meant to protect patients after Nassar was investigated for sexual assault in 2014.
Earlier this month, the Wall Street Journal reported on notes from an October 2016 meeting, where Strampel said he didn't believe Nassar's accusers. At the meeting, Strampel reportedly said:
Patients lie to get doctors in trouble. And we're seeing that right now in the news with this Nassar stuff. I don't think any of these women were actually assaulted by Larry, but Larry didn't learn that lesson and didn't have a chaperone in the room, so now they see an opening and they can take advantage of him.
Strampel is named in more than 100 lawsuits for allegedly failing to act to stop Nassar's abuse. Nassar pleaded guilty to sexually abusing patients in both Ingham County and Eaton County, Michigan.
[Image via WILX screengrab]
Have a tip we should know? [email protected]