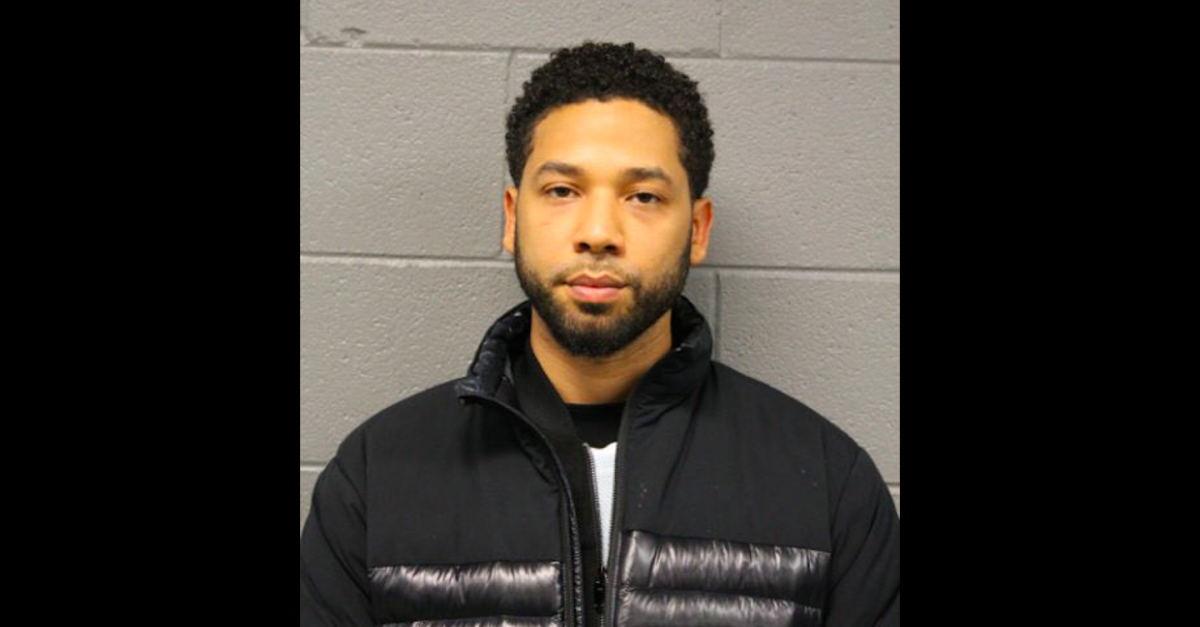 A grand jury in Chicago indicted Empire actor Jussie Smollett on 16 felony counts on Thursday, this after Smollett had already been charged on Feb. 20 with felony disorderly conduct for allegedly filing a false report. The Cook County State's Attorney's Office confirmed the indictment on Friday, ABC 7 Chicago reported.
Smollett stands accused of orchestrating a fake hate crime with the help of Ola and Abel Osundairo, siblings who were initially regarded as persons of interest in the attack and have since turned into key witnesses. Class 4 felony disorderly conduct is a crime that could be punished by 1-3 years behind bars in Illinois.
Smollett pleaded not guilty to the first felony charge.
A Chicago grand jury has now tacked on 16 felony disorderly conduct counts. According the the latest reporting, these charges relate not to the initial reporting of the attack but to a follow-up interview Smollett had with police later on the same day. The current thinking is that Smollett might seek a plea to deal to avoid jail time, but, of course, that would require an admission of guilt.
There's also been some question of whether he could face federal charges for allegedly mailing himself a fake hate letter.
Smollett said that he was the victim of a racist and homophobic assault, that his assailants had a noose, and that they poured a bleach-like substance on him while saying, "This is MAGA country." This incident, he said, occurred in Chicago after he'd left a Subway restaurant.
Smollett later went on ABC News to be interviewed by Robin Roberts. During that interview, Smollett said he was "pissed" people didn't believe him.
After the Osundairo brothers were interviewed, police came to a completely different conclusion — namely, that Smollett had paid them by check to stage the attack because he was unhappy with his salary on the show Empire.
Smollett and his attorney Mark Geragos denied this. On his podcast Reasonable Doubt, Geragos asked the kind of questions that you might expect to be asked in a courtroom on cross examination. Remember: Chicago Police initially identified the Osundairos as persons of interest in the attack. Days later, they were no longer considered persons of interest but victims, and were released from custody without being charged. They also provided information that was deemed credible enough for an indictment.
Geragos wanted to know what happened after the witnesses were taken into custody but before they were released, and why.
"Did you charge them? Did you give them immunity? Did you do anything with them?" he said. "You said they changed their story in the 48th hour — why did they change their story? Was it lawyer-driven?"
Geragos claims that, actually, the real case is against the exonerated witnesses.
"I have not seen anything that supports this idea or the narrative that they put out there that he was in cahoots with anyone. They have a whale of a case against the two guys — the two brothers — but that's it," he said. If there was a deal involved, you can expect the defense attorneys will argue that this more than taints the witness explanation. Geragos further claimed that the narrative that Smollett was pissed off about his salary was "not true."
"They didn't talk to his lawyer, they didn't talk to anybody at the production company, they didn't talk to an agent," Geragos continued. "Nobody. I've done that. I know for a fact that's untrue. That's categorically untrue. That's not the motivation, yet that was what was articulated as the motivation."
[Image via Chicago PD]
Have a tip we should know? [email protected]