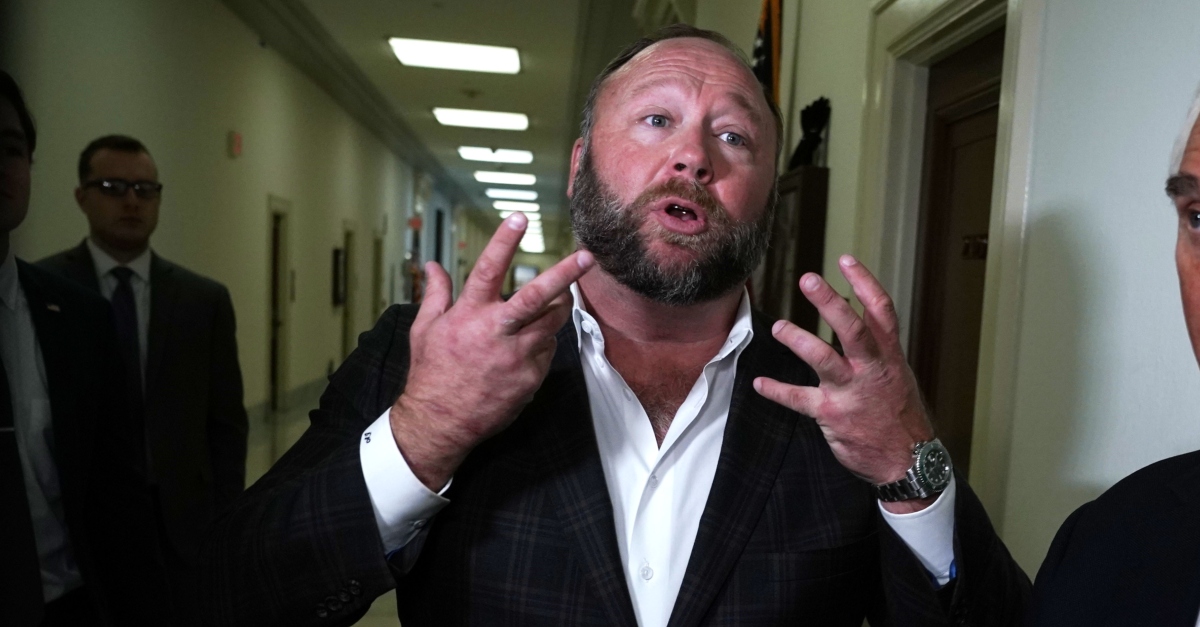 As part of their defamation lawsuit against InfoWars founder and conspiracy theorist Alex Jones, six families of Sandy Hook mass shooting victims will get to look at InfoWars sensitive internal information. A Connecticut judge ruled on Friday that the plaintiffs can access Jones' internal marketing and financial documents, according to ABC News. That's not all. There will be a hearing next week to determine if Jones will have to sit for a deposition.
Adam Lanza murdered 20 children and six adult staffers at the Sandy Hook Elementary School on December 14, 2012. All of the children were either 6 or 7 years old. The plaintiffs, families of five children and two adults who were killed, have sued Jones for launching a "years-long campaign of abusive and outrageous false statements in which Jones and the other defendants have developed, amplified and perpetuated claims that the Sandy Hook massacre was staged and that the 26 families who lost loved ones that day are paid actors who faked their relative's deaths."
Jones' attorney Jay Marshall Wolman didn't immediately respond to a Law&Crime request for comment. In court, the defense previously argued that Jones and InfoWars were protected by the First Amendment, and that they weren't responsible for the mass shooting.
New: Law firm representing Sandy Hook families in lawsuit against Alex Jones says in statement that a judge has granted them access to internal InfoWars documents pic.twitter.com/RWXS9CPRpa

— Oliver Darcy (@oliverdarcy) January 11, 2019
Jones has a history getting into these sorts of fights. His YouTube Channel got into trouble after the mass shooting in Parkland, Florida. Video falsely depicted some students at Marjory Stoneman Douglas High School as paid "crisis actors."
Nicole Hockley's 6-year-old son Dylan was killed in the mass shooting at Sandy Hook Elementary School on December 14, 2012. She recently joined the Law&Crime Network to discuss a PSA her organization Sandy Hook Promise put together. The PSA was about school shooter warning signs.
[Image via Alex Wong/Getty Images]
Have a tip we should know? [email protected]