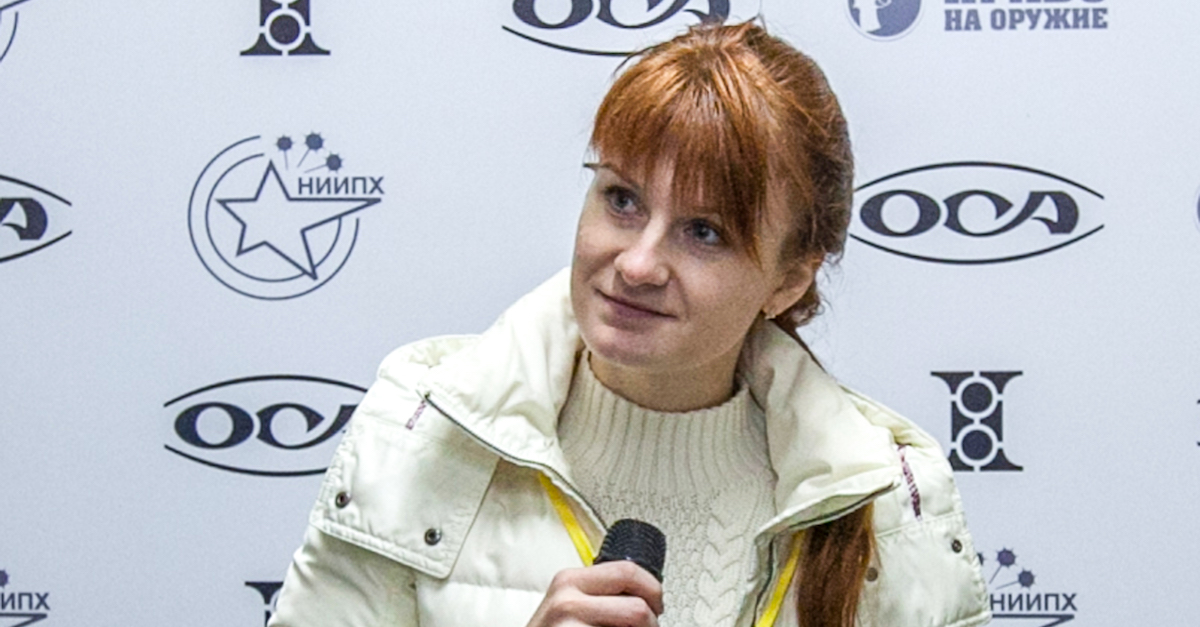 Prosecutors in the case against alleged Russian spy Mariia (Maria) Butina told a federal judge they don't want the defendant's attorneys providing evidence to the news media due to "potential" ongoing investigations.
Buzzfeed News' Zoe Tillman revealed details of a Wednesday morning status conference via Twitter. During that conference, government attorneys requested a protective order so that roughly 1.5 million documents don't make their way into the public eye.
Butina's lawyers countered that they should have access to certain personal effects in their client's possession at the time of her arrest without the judge issuing the requested protective order. Defense attorneys added that they would agree not to share Butina's personal materials with the media.
Government attorneys cast some doubt on whether such a promise was credible. Lead Department of Justice prosecutor Thomas Saunders noted that Butina's attorney Robert Driscoll had recently appeared on cable news to criticize and cast aspersions about the government's purported evidence. Notably, however, some of this evidence has likely been leaked to the news media by the government itself.
One such probable leak concerns the headline-bait allegation that Butina offered sex in exchange for getting one of her alleged targets a job. Driscoll zeroed in on this allegation–and the evidence that may or may not support it when making his case before the court. Per Tillman's reporting, Driscoll complained that his position as an attorney was "unusual" in the Butina case; compelling a dual-pronged strategy of courtroom lawyering and media advocacy due to the onslaught of press coverage concerning his client.
Per reporter Alex Rubinstein, Driscoll also shot back at government claims that his media tour was in any way untoward, categorizing it as "an eye dropper in a tsunami of negative press" and a necessary corrective to false media reports due to Washington D.C.'s "limited jury pool."
Ultimately, however, U.S. District Judge Tanya S. Chutkan sided with the government–forbidding Butina's attorneys from sharing evidence with the media. Government attorneys now have two weeks to submit a proposed protective order and Butina's attorneys will have one week to respond.
Regarding the specific sex-for-employment allegation, Driscoll said he had "no idea" what the government was talking about and that the defense "doesn't believe it's true." Driscoll also noted that he had requested the specific intelligence regarding this salacious hiring method but was rebuffed by the prosecution.
In response to this complaint, Judge Chutkan noted, "You don't have a right to specific pieces of info to rebut media reports."
The next hearing in United States of America v. Mariia Butina is slated for September 10.
[image via STR/AFP/Getty Images]
Follow Colin Kalmbacher on Twitter: @colinkalmbacher
Have a tip we should know? [email protected]