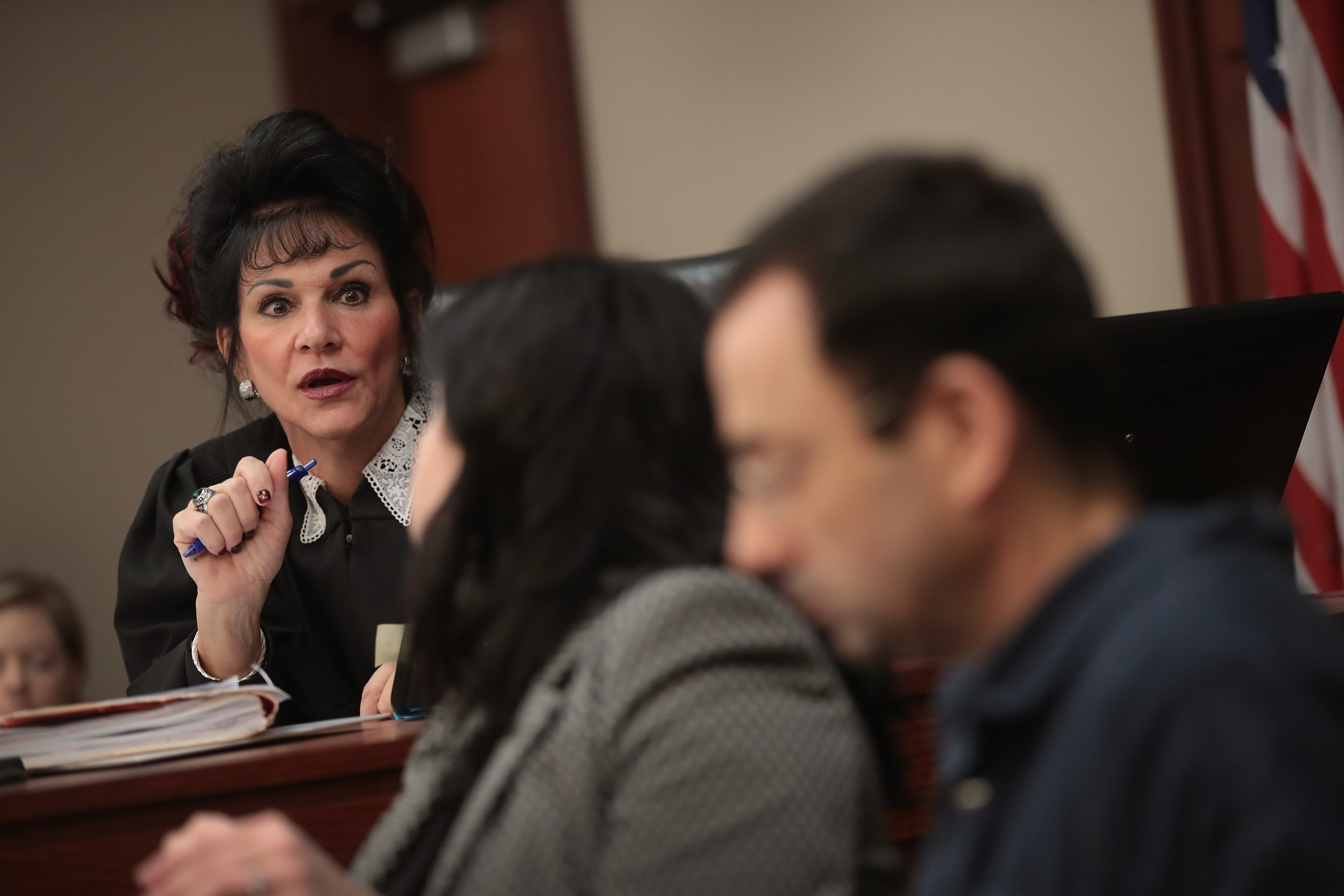 Larry Nassar is requesting a re-sentencing hearing after apparently being attacked in federal prison.
According to the Lansing State Journal, this alleged attack was mentioned in a footnote contained in one of two separate motions filed with the Ingham County Circuit Court on Tuesday.
By way of his court-appointed attorneys, one of Nassar's motions makes the aforementioned re-sentencing request–based on what Nassar believes to be an invalid sentence.
The second motion is perhaps even more controversial. This motion requests that Judge Rosemarie Aquilina be disqualified from overseeing Nassar's sentencing. In the motion, his attorneys argue that Aquilina is "admittedly not an unbiased and impartial judge."
"Judge Aquilina made numerous statements throughout the proceedings indicating that she had already decided to impose the maximum allowed by the sentence agreement even before the sentencing hearing began," Nassar's lawyers wrote. "Thus, from the defendant's perspective the sentencing hearing was just a ritual."
The filing continued, further highlighting instances of Aquilina's alleged bias:
The judge herself openly lamented that she could not impose cruel and unusual punishment upon the defendant, indicated her expectation that he would be harmed in prison, without condemning it, and finally proclaimed, with apparent relish, that she was signing his 'death warrant.'
Aquilina's "death warrant" line drew widespread media attention and public praise–as well as some amount of legal criticism. Nassar's attorneys attempted to draw a direct line from Aquilina's harsh commentary to the violent treatment they say he has received in prison. The filing alleges that Nassar's apparent prison beatdown was due to "Judge Aquilina's efforts to demonize Dr. Nassar in front of the entire world."
According to Nassar and his attorneys, he was attacked just hours after being placed in the general population of a federal prison. Online records show that Nassar is currently being held in federal facility located in Tucson, Arizona.
Nassar is currently serving a 60-year federal sentence on various child pornography charges.
The disgraced doctor's sexual assault trial riveted the nation–buoyed by a powerful series of victim impact statements made by Nassar's alleged victims. Over the years, Nassar is believed to have molested over hundreds of women and at least one man.
After the trial, Aquilina sentenced Nassar to up to 175 years in prison based on sexual assault charges over the decades-long regime of sexual abuse while her served as an osteopathic physician at Michigan State University and the team doctor for the USA Gymnastics national team. Later, Eaton County Judge Janice Cunningham sentenced Nassar to an additional 40 to 125 years in prison.
[images via Photo by Scott Olson/Getty Images]
Follow Colin Kalmbacher on Twitter: @colinkalmbacher
Have a tip we should know? [email protected]