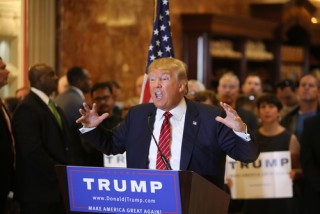 One thing that most attorneys advise their clients — if you are in the middle of litigation — probably not a good idea to slam the judge. Well, Donald Trump hasn't exactly followed that advice. Time and time again, he has taken aim at federal Judge Gonzalo Curiel from the Southern District of California. Curiel is presiding over the class action lawsuit against Trump University. In fact, just this weekend, Trump brought up  the judge, once again, for being "Mexican."  Several hours after those remarks, Judge Curiel came out with a pretty biting order. Curiel slammed Trump's legal arguments, and ordered some documents in the case be unsealed that Trump's attorneys were attempting to keep secret.
The case, Art Cohen v. Donald J. Trump, was filed in 2013 and basically claims that students were "hoodwinked" by the deceptive business practices of Trump University. The Washington Post's attorneys filed a motion to unseal documents in the case including a 2009 Trump University 'playbook'. The newspaper's attorneys argued that the documents were of 'public interest.'
Trump's attorneys, however, fought to keep certain portions of the 2009 Trump University playbook sealed because they "contain trade secrets." Trump also said the information has commercial value because although they stopped enrolling students in 2010 — 'they may do so again.' The Judge didn't agree with Trump's legal reasoning, and ruled against him.
The judge wrote:
"Defendant's (Trump's) assertion that the information retains any commercial value is speculative given the lack of any support for the statement that TU "may" resume operations after six years, and the public disclosure of the 2010 Playbook on the Internet."
As for whether the case is of public interest, Judge Curiel agreed, and couldn't help but take a subtle dig at Trump. "Defendant (Trump) became the front-runner for the Republican nomination in the 2016 presidential race, and has placed the integrity of these court proceedings whether the case involves issues important to the public," the judge wrote in his order.
Judge Curiel also found that since the 2010 playbook of Trump University had already been posted online by Politico, Trump's attorneys claims that the playbook is somehow secret had no merit. He said that the playbook is "largely" duplicative of what has already been publicly disclosed. The judge said, "the Post makes a strong argument that the public interest in understanding the judicial process is heightened in this case." LawNewz.com will update when we find out more about the unsealed documents
 Read the order: 
Have a tip we should know? [email protected]
Rachel Stockman - President / On Air Host