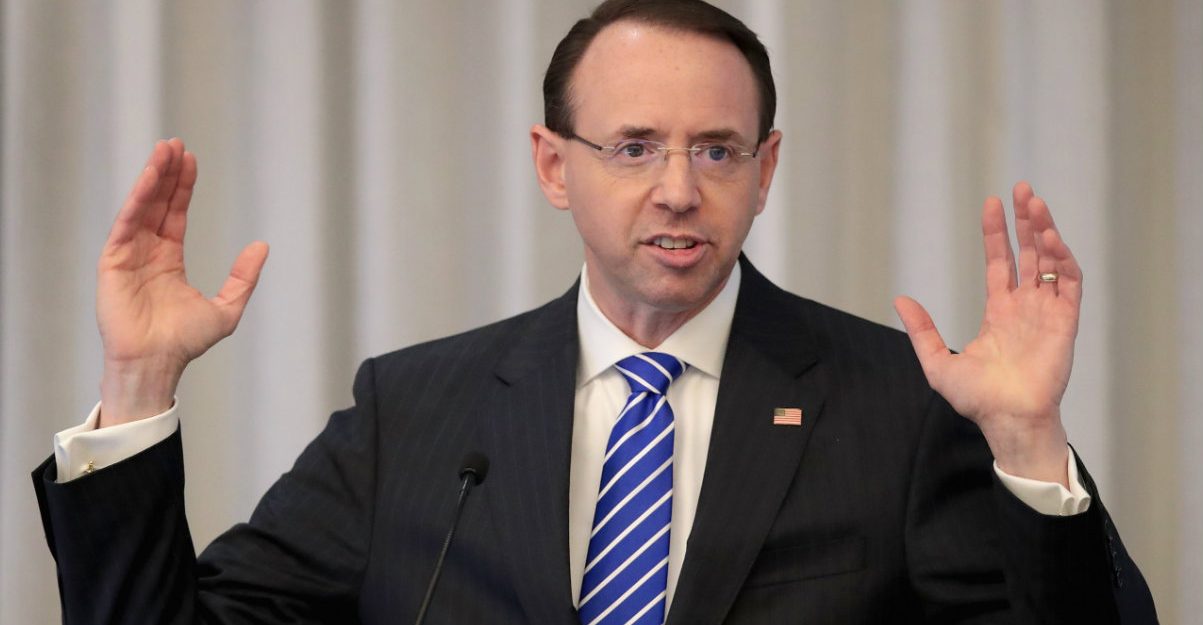 "Deputy Attorney General Rod Rosenstein is out — oh wait,  he isn't, but he might be soon." This is basically how discussion on Rosenstein's job status has gone, and for some time now. Rosenstein, whose job security has been in doubt ever since he appointed Robert Mueller as special counsel, is going to step down in the coming weeks, it was reported earlier Wednesday.
Rosenstein's latest rumored departure was supposedly being timed for him to leave after the confirmation hearings for President Donald Trump's Attorney General nominee William Barr. As Law&Crime's Ronn Blitzer noted, Barr would oversee the Mueller Probe if/when he is confirmed.
Now NBC is reporting, however, that Rosenstein is planning on staying on as Deputy Attorney General until Mueller submits a report.
A source close to Rosenstein said he intends to stay on until Mueller's investigative and prosecutorial work is done. The source said that would mean Rosenstein would remain until early March. Several legal sources have said they expect the Mueller team to conclude its work by mid-to-late February, although they said that timeline could change based on unforeseen investigative developments.
While Law&Crime has remained skeptical about Mueller Russia report prognostications — given that Mueller has no mandated timeline, given that it appears there is some work left to be done, and given that he just extended the grand jury for another six months — there is still one interesting component to this. Theoretically, the report that Rosenstein will step down in the coming weeks and the report that he will only step down once Mueller submits a report do not necessarily contradict one another.
Remember: both Bloomberg News and NBC News have predicted that Mueller will submit a Russia report in February.
Mueller may submit his findings on Russian interference in the 2016 presidential campaign to the Justice Department as early as February, according to one U.S. official. After that, things could get messy.
And this, per NBC News in December:
Special counsel Robert Mueller is nearing the end of his historic investigation into Russian election interference and is expected to submit a confidential report to the attorney general as early as mid-February, government officials and others familiar with the situation tell NBC News.

"They clearly are tying up loose ends," said a lawyer who has been in contact with the Mueller team.
[Image via Scott Olson/Getty Images]
Have a tip we should know? [email protected]