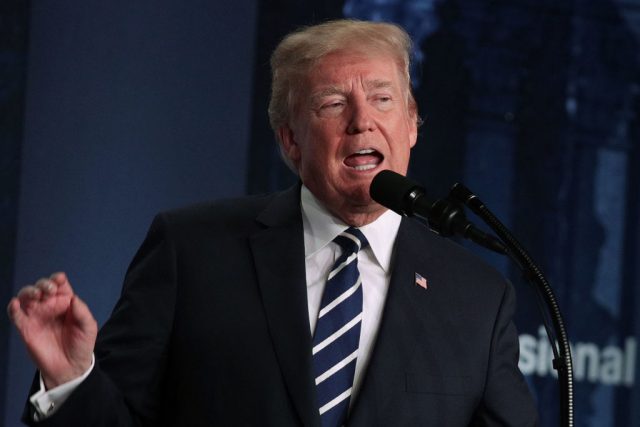 Two lawyers representing people in connection with Robert Mueller's Russia investigation believe an indictment of President Donald Trump could be forthcoming. The lawyers told Politico that an obstruction of justice charge could be in Trump's future. This would be unprecedented, as Justice Department opinions have indicated that a president cannot face criminal charges while in office.
"If I were a betting man, I'd bet against the president," one of the attorneys said, basing the assertion on his own interactions with Mueller's team.
"If he's going to do it, I think he'll do it in the spring," the attorney said. "I don't think he wants to be accused of trying to influence the election that dramatically."
The second lawyer who spoke to Politico acknowledged the legal questions involved in such a move, but thought Mueller might try to indict Trump anyway.
"It's entirely possible that Mueller may go that route on the theory that, as an open question, it should be for the courts to decide," the attorney suggested. "Even if the indictment is dismissed, it puts maximum pressure on Congress to treat this with the independence and intellectual honesty that it will never, ever get."
A Trump indictment would surely be met with a challenge that could take it to the Supreme Court. The most recent Justice Department opinion on the issue is from 2000, when the DOJ agreed with an earlier opinion from 1973 saying that a president could not face charges while still in office. The idea was that "the indictment or criminal prosecution of a sitting President would impermissibly undermine the capacity of the executive
branch to perform its constitutionally assigned functions."
Not everyone holds that view. A memo from then-independent counsel Ken Starr's office in 1998 during the investigation of President Bill Clinton argued that a president could indeed be indicted while an office.
The courts have yet to address the issue, but they would be forced to make a determination should Mueller decide to move forward with charges.
Even some of Trump's political opponents don't believe an indictment is likely.
Rep. Adam Schiff (D-California) believes that Mueller would likely let Congress handle the matter instead of the criminal justice system.
"I think that it's far more likely if the special counsel finds evidence of criminality… that it's presented in a report to Congress," he said. That way, the House of Representatives would have all of the relevant evidence before them to decide whether to impeach the president.
One of the defense attorneys involved in the Russia investigation noted that Mueller could very well name Trump an unindicted co-conspirator in a case against other Trump campaign members. That would essentially make a record of evidence against the president that might be used in an impeachment process, while avoiding the issue of filing criminal charges against the president.
The DOJ generally has a policy against such a move, but this situation could be an exception. The U.S. Attorney's Manual says, "In the absence of some significant justification, federal prosecutors generally should not identify unindicted co-conspirators in conspiracy indictments." Providing evidence necessary for a possible impeachment of the president could be seen as a "significant justification."
If so, such a move would be in line with Schiff's belief that Mueller would prefer letting Congress handle the matter rather than believing that "12 jurors in some part of the country should decide the fate of the republic."
[Image via Alex Wong/Getty Images]
Have a tip we should know? [email protected]