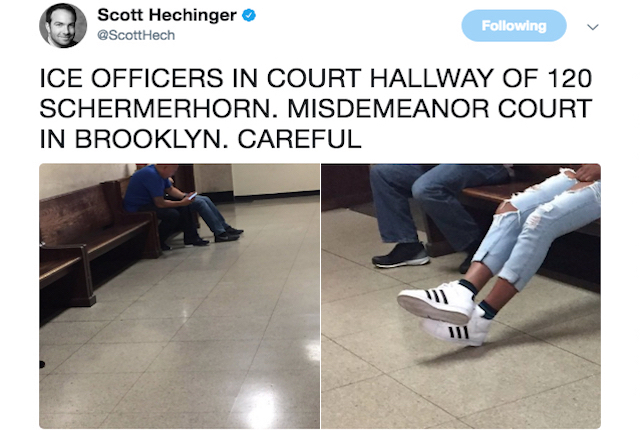 Immigration and Customs Enforcement (ICE) agents were conducting raids within New York City courtrooms this morning at the Kings County Criminal Court in downtown Brooklyn–until media coverage apparently forced them out.
And, those same ICE agents–reportedly six in total–reportedly initially misled Brooklyn officials as to their identities and later misled New York State officials as to the purpose of their visit to the borough's busiest misdemeanor court.
Scott Hechinger, Senior Staff Attorney and Director of Policy for Brooklyn Defender Services urged all non-citizen defendants to avoid Brooklyn's main misdemeanor court via Twitter. He also advised attorneys to alert their clients to ICE's presence:
**All noncitizens with court dates today at 120 Schermerhorn Street SHOULD STAY AWAY. CONTACT YOUR LAWYER.** Lawyers: contact your clients. https://t.co/zZd4TQ6acS

— Scott Hechinger (@ScottHech) September 14, 2017
At least one person was taken away in handcuffs by ICE and the agents allegedly claimed they were looking for additional undocumented individuals after that initial arrest, according to a local reporter on the scene. ICE later confirmed that four individuals were arrested as a result of their courthouse raids. Roughly two hours after their arrival, however, those same plain-clothes ICE agents abruptly left after being questioned and filmed by media.
UPDATE. Power of media. ICE HAS LEFT COURT when questioned by a @Slate reporter, & they were filmed doing so by @democracynow. #resist https://t.co/qJQje6Y9gn

— Scott Hechinger (@ScottHech) September 14, 2017
The fresh slate of ICE raids come at an interesting time in Brooklyn–just two days after Brooklyn's District Attorney Eric Gonzalez fended off progressive challengers Marc Fliedner and Ana Dwimoh during New York City's primary election. Fliedner was backed by the Democratic Socialists of America and Dwimoh had called for systemic changes to Brooklyn's legal regime.
During that contentious campaign, Gonzalez distinguished himself amidst the large field of candidates by calling for ICE to stay out of Brooklyn's courts. Two days after Gonzalez won re-election, ICE is apparently back at it.
Fliedner himself reflected on the goings on in Brooklyn. Via an interview with LawNewz he said:
It's quite simply a critical promise already broken–two days after the primary election. Gonzalez stated that he had barred [ICE] from the Brooklyn criminal court in a televised New York One forum. It is disturbing. That representation absolutely wasn't true. It puts us in a place where we're going to continue to be concerned about what's going in Brooklyn.
Officials with the Brooklyn District Attorney's Office said they were currently looking into the ongoing raids and said they opposed the practice of ICE using Brooklyn's courtrooms for such purposes but refused to comment on the record.
ICE's activity was later confirmed by reporters on the scene and officials within the New York State court system.
New York State's Unified Court System's Director of Public Information Lucian Chalfen said:
"The ICE activity apparently related to agent(s) speaking with an ADA from the Brooklyn DA's office. No one was removed from the courthouse that we are aware of."
When pressed as to how that statement conflicted with reports and images of a man being arrested by ICE, Chalfen said, "If it was outside, we are not involved."
ICE's Public Affairs Officer for New York, Rachael Yong Yow, promised to look into the raids and the apparent discord between various accounts. The following statement was provided to LawNewz after our story was published. It reads:
ICE's Enforcement and Removal Operations (ERO) deportation officers arrested four individuals Sept. 14 at King's County Criminal Court in Brooklyn, NY. Each individual is a known gang member or affiliate and has pending criminal charges.

Because sanctuary cities like New York City do not honor ICE detainers, aliens, who often have significant criminal histories, are released onto the street, presenting a potential public safety threat. Courthouse visitors are typically screened upon entry, making arrests inside such facilities far safer for everyone involved.
[image via screengrab]
Follow Colin Kalmbacher on Twitter: @colinkalmbacher
Editor's note: This story has been edited to include a response and details from ICE and a former candidate received after the time of publication.
Have a tip we should know? [email protected]