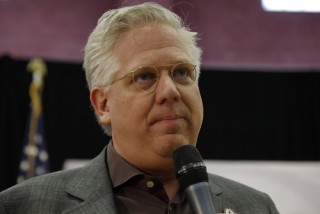 On Friday, Glenn Beck filed a 16-page lawsuit accusing his former CEO, Christopher Balfe, of fraud, mismanagement, destroying evidence and breach of contract. The lawsuit was filed in Texas on behalf of Mercury Radio Arts which serves as Beck's production and operating company over TheBlaze. 
Balfe, who served as CEO of TheBlaze, fired back in a short, terse statement Monday night.
"I feel terrible for Glenn and I hope he finds the help that he needs," Balfe said in a statement to LawNewz.com when asked for his response to being sued.
Balfe worked closely with Beck for more than a decade, building a conservative radio and television media empire. The two split in 2014 when Balfe went to start his own company, Red Seat Ventures. He brought with him several top Beck executives, which was also a point of contention in Beck's lawsuit. The Daily Beast has been reporting about Beck's financial troubles, claiming he is millions of dollars in the red.  A source, in their article, called the lawsuit "the last gasp of a dying empire."
Beck's lawsuit alleges between 2009 and 2014, Balfe's compensation totaled in excess of $13 million.
"This is a shockingly excessive amount that far exceeds appropriate compensation for companies of Mercury and TheBlaze's size and financial performance," Eliot Burriss, an attorney for Mr. Beck, wrote in the lawsuit, adding that Balfe never submitted his executive compensation to Mercury's board of directors.
The complaint also accuses Balfe of "fraudulently causing Mercury to sign an unnecessary lease thereby taking on a $20 million liability."
"I am embarrassed and saddened it has come to this. It is an ongoing legal matter so you will not hear me speak of this often but as always, I want you to hear it from me," Beck wrote on his website on Monday.
The lawsuit was filed Friday afternoon in Dallas County, Texas.
Have a tip we should know? [email protected]
Rachel Stockman - President / On Air Host