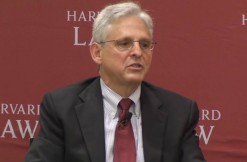 What is Merrick Garland thinking right now?
During a Thursday interview on The Tom Joyner Morning Show, Democratic presidential nominee Hillary Clinton discreetly hinted she wouldn't nominate the appellate judge if she became president. She said she would "look broadly and widely" for someone to join The U.S. Supreme Court. To be clear, she didn't say she'd abandon him, but her comment raised that possibility.
President Barack Obama nominated Garland to replace conservative Justice Antonin Scalia, who died in February. Cue months of political gridlock. Senate Republicans have stalled the confirmation process, saying that it's an election year, and that they should wait for the new president to fill the seat.
What's ironic is Clinton's statement might ensure he'd be confirmed if she wins. In May, Senator Jeff Flake (R-Arizona) said Republicans "ought to approve him quickly, because I'm certain he'll be more conservative than a Hillary Clinton nomination."
Garland is a judicial moderate. For example, he's considered a liberal on gun control, but has a tough-on-crime reputation that might be attractive to right-wingers.
[h/t Bloomberg]
[screengrab via Harvard Law School]
–
Follow Alberto Luperon on Twitter (@Alberto Luperon)
Have a tip we should know? [email protected]